Comics / Comic Reviews / Marvel Comics
Incredible Hulk #611
By Colin Andersen
August 17, 2010 - 18:19
Well here is a book I was surprised to find myself liking, and quite a bit at that. Lately, all of the Hulk books have been involved in a big story called World War Hulks. Ever since the debut of the Red Hulk more and more Hulks and She-Hulks of all colors have been showing up and causing problems. It was really all a bit much and got very old very fast as the cast became hugely bloated. It all led into World War Hulks which reaches its penultimate issue here. For months, the Hulk's alter ego, Bruce Banner, has been training his warrior son in how to kill the Hulk next time Banner emerged, an event which happened last issue. Now, with the true Hulk back, Skaar sets out to do just what he was trained for.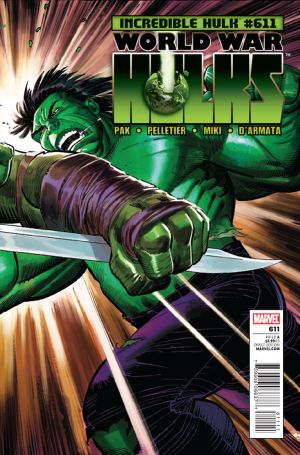 And that is exactly what this issue is; a whole lot of father/son smashing and what a glorious fight it is. The battle really shows off just how powerful these two characters are and their battle spans hundreds of miles because of it. Greg Pak plots a tight script that manages to be more just a huge fight, though. At the heart of this issue is that this is, in fact, a to-the-death battle between a father and son and Pak really drives this home. For maybe the first time ever, Pak manages to effectively use the idea of Bruce Banner's abuse by his father as a child in the plot. I admit that, at first, I was turned off when I saw these flashbacks and thought them to be a waste of space, but then I realized how much they were reflected in the fight with Skaar and how this affected the Hulk's attitude in his fight. Speaking of the Hulk's attitude, for the fans that have been screaming for it, this issue also marks the return of the "Worldbreaker Hulk," the most powerful and intelligent version of the Hulk that's existed, only this time it really seems as though Bruce in the one driving the Hulk. It's a nice twist on a tired formula and it allows for the amazingly poignant end of the issue. Admittedly, the ending felt a little bit sudden and predictable, but that doesn't making it any less emotional.
Equal amounts of praise need to be given to artist Paul Pelletier as well. I think that Pelletier manages to draw my single favorite version of the Hulk in years in this issue. He looks monstrously powerful, as he should, while also making him seem intelligent when he should. He especially excels in showing emotions in this issue. The Hulk really looks angry at the beginning, but he also manages to draw one of the most emotional panels of not just the Hulk, but any character when Hulk is told about his deceased wife's second "death." You can really see in his face that he is in pain upon hearing this and this is truly impressive.
I definitely would not say that this one issue is worth all the massive, overly drawn out stories of the past few years. There is probably some way this issue could have been written without all of it, but this is easily the closest thing I could hope for to justify it all. For those that want action, it has it, and for those that want some story and character, it has that also. It's a lot of fun to read and it is more fun than I've had with these books in years. If you were staying away from these books since the
Hulk
series restarted over two years ago, now might just be a good time to come back.
Rating: 9 /10
Last Updated: August 31, 2023 - 08:12