Comics / Comic Reviews / DC Comics
Haunted Tank #1 of 5
By Hervé St-Louis
December 7, 2008 - 19:00
Iraqis ambush Sergeant Jamal Stuart, a tank commander in Iraq in an operation in the desert only to be saved by his great, great grandfather, Confederate General J.E.B. Stuart. General Stuart is a ghost whose sole mission in the afterlife is to protect his descendants when they are engaged in war. The problem is Jamal Stuart is black and General is a Confederate plantation owner! Will Jamal accept the help of this less than politically correct ancestor, or will he reject his ancestor's slave-owning past?

The first issue centered on the incongruous situation that explains much of how America's history shaped its people. Many blacks in the United States today, are descendants of the union of white slave owners and black slaves. This issue barely glanced at the entire debate, focusing instead on the weirdness of a ghost appearing in the middle of a war, and the urgency of the Iraq debacle the Stuart and his fellow soldiers are facing.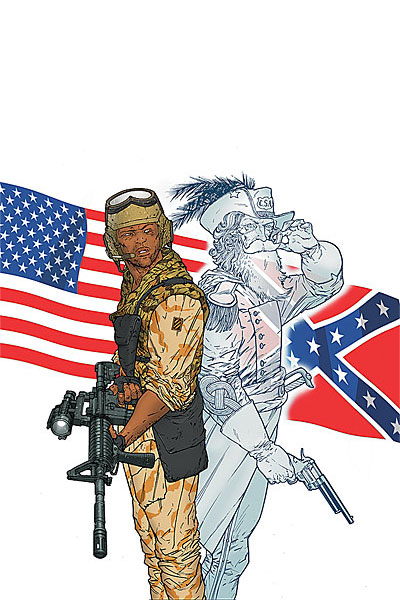 At first glance, I'll say that the premise is not enough to make this series strong. Sure, it's fun and well plotted, but it lacks more meat. Perhaps future issues will delve in the entire race issue and the Iraq war in detail.
Flint has always been a favourite of mine. I remember his gritty work from Green Lantern Quarterly over a decade ago and it's still as fresh and detailed. I like his facial expressions and his ability to render tanks and operational equipment properly. His work livens up the series and justifies why a reader should seek the second issue of this mini-series.
The Haunted Tank is a reboot of an old DC Comics featured published in G.I Combat #87 all the way to 1987. The feature was created by Robert Kanigher and drawn by Russ heath.
Rating: 6 /10
Last Updated: September 6, 2021 - 08:15