We're Due For Another Harley Quinn Action Figure
By Hervé St-Louis
Nov 9, 2008 - 8:08
Harley Quinn Maquette
Although Harley Quinn, the Joker's girlfriend is a very popular character, there have been few action figures of her released. Harley Quinn first stole the spotlight from the Joker in 1992 in the cartoon series
Batman: The Animated Series,
episode 22. Due to her popularity, she was introduced in comic books, first through an Elseworld comic book published in 1997 –
Thrillkiller
.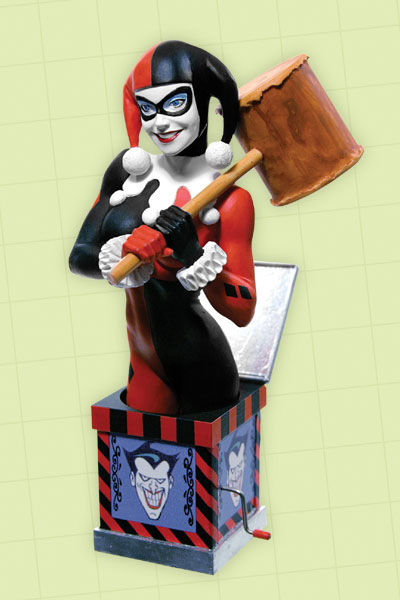 Harley Quinn Bust
Harley Quinn collectors can find her mostly through statues, such as the Women In the DC Universe Bust designed by Adam Hughes and sculpted by John G. Mathews. Mathews also sculpted a Harley Quinn maquette in the same scale as many of the Justice League Animated maquettes. Another, is the Bruce Timm inspired Harley Quinn statue sitting on a deck of cards. This one looks more like the animated version of the character. There's also a snowglobe, designed by Ty Templeton and sculpted by Sam Greenwell.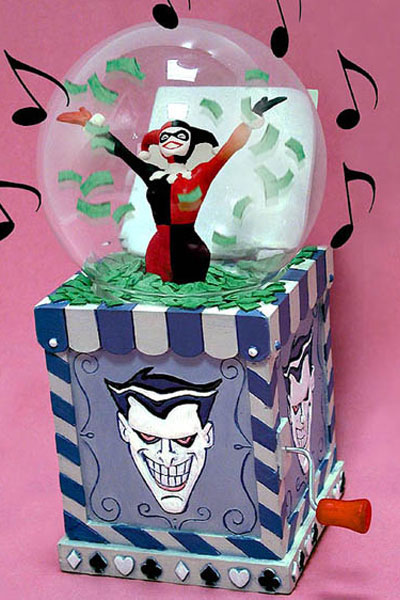 Harley Quinn Snowglobe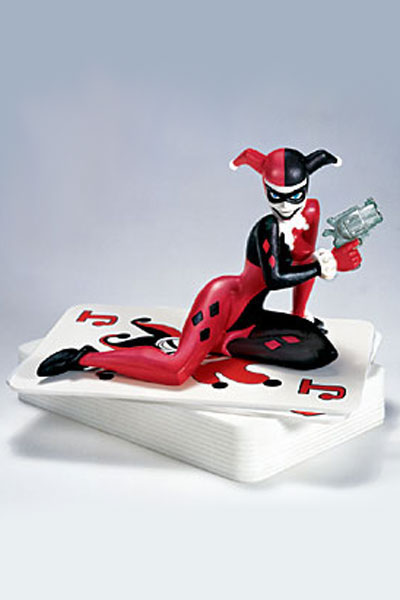 Harley Quinn by Bruce Timm
Both Hasbro and Mattel have released doll-like toys of Harley Quinn in large scales. Mattel's version is based on a Barbie doll's body. Hasbro's is based on their corresponding larger scale toy lines that they use for their G.I.Joes toys and some other super heroes. However, none of them are exciting or remotely interesting to action figure collectors.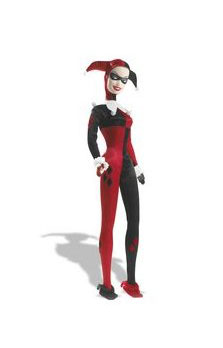 Harley Quinn Barbie Doll
Harley Quinn Doll by Hasbro
The Japanese have also produced Harley Quinn action figures, but with little action. DC Direct, sells some of their stock in North America. There is the Kia Asamya action figure that does not have any articulation, part of a larger line of Batman toys designed by the Japanese designer. There is also a more complex piece created by Yamato. Although the diaporama that comes with the toy is great, it still has no articulations. In all these above-mentioned toys are no better than the one designed by Udon Comics that also features an inarticulate Harley Quinn toy.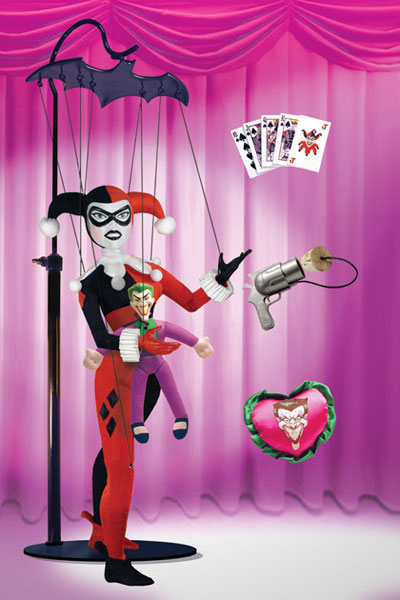 Harley Quinn Marionette
In terms of articulations, the most flexible thing has to be the Harley Quinn puppet designed as a matching piece for the Joker puppet. There has probably been several Harley Quinn action figures designed by Hasbro and Mattel, related to the Justice League and Batman Animated series. One is rumoured to be released by Mattel soon, although Mattel did release a Harley Quinn action figure earlier this year as part of its DC Universe Series 2. However, the main standard articulated Harley Quinn action figure coming in a reasonable scale – six inches has been the one released by DC Direct as part of the Hush series.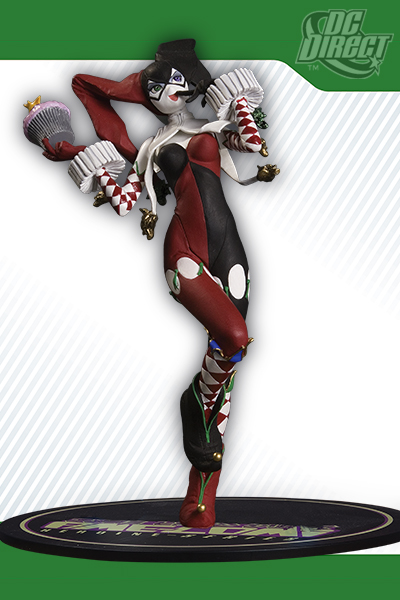 Harley Quinn PVC figure by Udon
I've reviewed this
Harley Quinn action figure
a few years ago and did not like it. Based on Jim Lee's design, she has legs that are just too long. She also isn't built to last as I broke her elbow joint just by having her fall off my desk to the floor. I've been quite annoyed by the poor quality of this toy and cannot understand why DC Direct has not released any Harley Quinn action figures since. She is a popular character and although there is a perception that female action figures don't sell, I have a feeling that this maxim would not hold very long for Harley Quinn.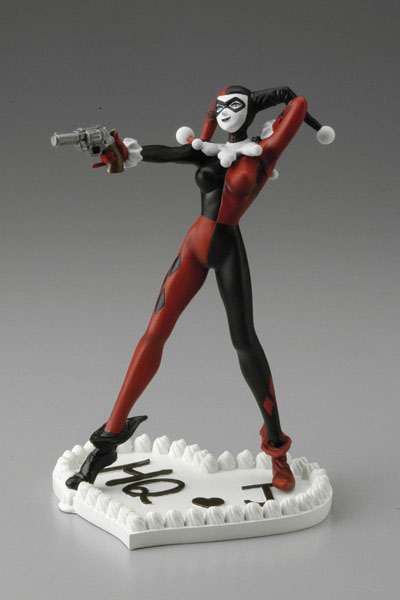 Harley Quinn my Asamya
My wishes for an Harley Quinn action figure would be one that captures her cartoony look, without being so immersed in the Bruce Timm look. That is to say that she should have soft features and curves, but also look realistic enough to pose next to any other six-inch action figure. She should also have enough articulations, well hidden and integrated in her sculpt. Of course, she would need a few props like a crackerjack box, of a fake gun, or even an action figure stand based on a deck of card or something inspired by her real inspiration the Commedia dell'arte's Harlequin. The one thing I want from any future Harley Quinn action figure is something that is durable and won't break, the moment you touch it.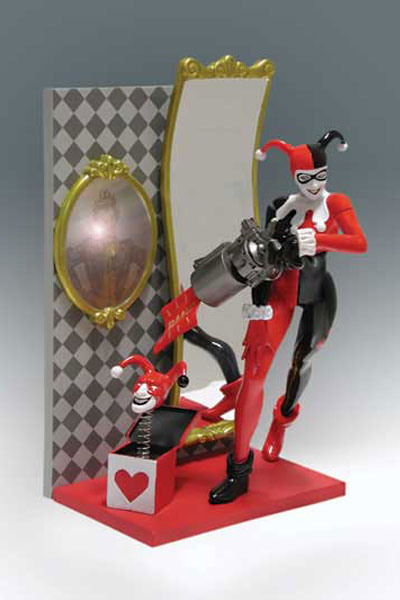 Harley Quinn by Yamato
Last Updated: Jun 26, 2018 - 9:28