Comics / Comic Reviews / DC Comics
Review: Harley Quinn #43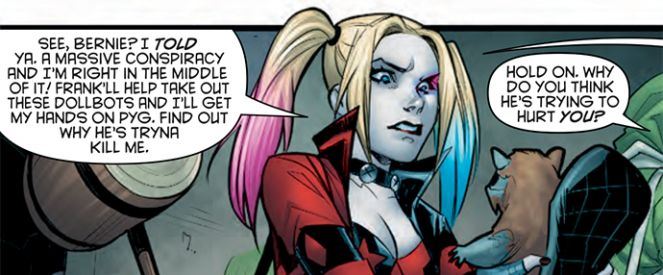 By Philip Schweier
June 6, 2018 - 04:21
Harley's crazy. No, really, her grasp on sanity has slipped into full-blown paranoia. Something straight out of the play, "They Might be Giants." In that story, a man who believes himself to be Sherlock Holmes follows a series of meaningless "clues," in a bid to solve a mystery that doesn't really exist. And now Harley is determined to discover who has it in for her, and has targeted her and hers for endless misery.
As our illegal heroine makes her way through the city that is New York, her investigation eventually leads her into the orbit of Professor Pyg, a rather lame addition to Batman's rogues gallery. I get the vibe that DC's strategy is to use him as often as possible, in the hope that either A) he'll grow on the audience; or B.) some writer will finally crack the character and Pyg's stock will rise as a result.
This is the first Harley Quinn story arc for Christopher Sebela, a writer with whom I am unfamiliar. It's a different take than to which I'm accustomed. Jimmy Palmiotti and Amanda Conner seemed intent on portraying the insanity of Harley's world, but now that insanity seems more internal. Does it work? Don't know, but we'll find out.
The artwork by Mirka Andolfo is enjoyable, more so than that of cover artist John Timms. Not that he's a bad artist, but I don't believe Harley Quinn was a suitable vehicle for him. I'd prefer to see him on another title; Batwoman, perhaps.
Rating: 6/10
Last Updated: February 5, 2023 - 09:06