Comics / Comic Reviews / DC Comics
Review: Harley Quinn #41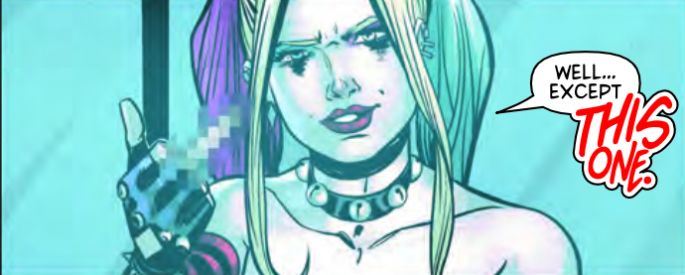 By Philip Schweier
April 6, 2018 - 08:35
Harley Quinn vs. all the bad guys in Gotham (but in New York). That's the basic concept of the current story arc. And leading the villains in the crime lord known as the Penguin. He's recruited some of Gotham's worst criminals to join him in the Big Apple. If Batman wants Gotham, he can have it.
But Harley isn't exactly alone in her battle. Sure, she's walked away from her friends and co-conspirators, but that was under the influence of the Mad Hatter and False Face. But there's something appealing about Harley that draws people to her. Maybe it's her devil-may-care charm, maybe it's the guarantee of excitement, or maybe it's her psychology background manipulating people's motivations.
She and her army of cronies, as well as the other quirky citizens of Coney Island band together in a broad farce, making her the hero du jour. I love a happy ending, and the possibilities are endless for where Harley goes from here.
My only issue with this issue is the artwork. Inaki Miranda's work feature some of the manic rendering one might expect from a book about an anti-hero with emotional issues. But it also has a certain wild, careless style that is not my particular cup of Earl Gray. I prefer a tighter, more economical line style, but that's just me. Moritat illustrated the latter portion of the book, and as much as I enjoy his retro-style, I'm not Harley Quinn is the best place for it.

Rating: 7/10
Last Updated: February 5, 2023 - 09:06