Hanako and the Terror of Allegory volume 1
By Chris Zimmerman
Mar 19, 2010 - 8:35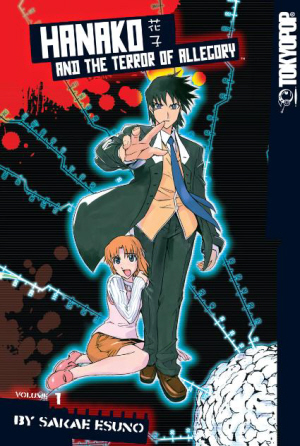 Hanako and the Terror of Allegory volume 1
Daisuke Aso is a former police officer, currently spending his days investigating paranormal activities known as "allegories". Allegories are the physical manifestations of urban legends. If a person fears it strongly enough, their beliefs become real, haunting them.
A young woman named Kanae Hiranuma is suffering from an allegory of her own. Having been told a story about a man with an axe that waits under a person's bed for them to fall asleep, her fears take physical form. When she seeks out Daisuke, he is at first averse to helping her due to his own unique allegory. When around any sort of paranormal activity, he hiccups uncontrollably. Making the matter more desperate, should he hiccup one hundred times, he will die.
After persuasion from his partner Hanako, who also happens to be a second allegory haunting him, Daisuke takes the case and frees Kanae of her fear. Over the course of the volume, two more cases crop up, prompting a reluctant Daisuke to action.
Sakae Esuno's art, though not quite as polished as fans have come to expect, is fitting with his otherworldy designs and outlandish characters.
Despite being a horror story, there is plenty of action to go around with Daisuke shooting, hacking, and slashing at the various monsters he encounters.
If the series has one weakness, it would have to be its pacing. Where the first arc feels rushed, the third drags in areas and suffers from being overly convoluted.
Still, Horror fans will find much to like about the series. The stories will have readers guessing the whole way through and Esuno's artwork is downright creep at times. This volume hits some bumps in the road toward the end but it's engaging enough to warrant attention.
Rating: 8 /10
Last Updated: Jun 26, 2018 - 9:28