Comics / Comic Reviews / DC Comics
Review: Gotham City Garage #10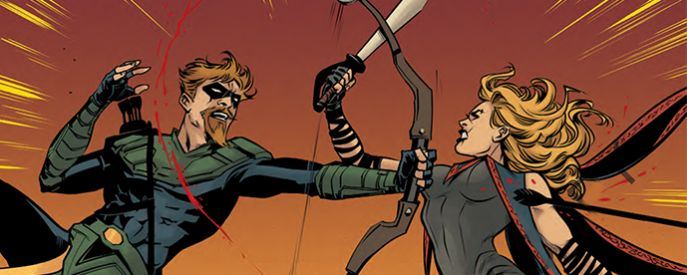 By Philip Schweier
February 28, 2018 - 04:29
Gotham Garage is preparing for an attack by the forces of Lex Luthor. Its residents have scattered in all directions to recruit help in the coming assault. Such was the premise of the previous issue, and the one before that. I have to wonder how many issues it will be before the attack comes. Will Luthor's henchies even find anyone at the garage? It certainly doesn't seem like it. Will readers even care, after several months pass and the imminent assault isn't so imminent. It certainly doesn't seem like it.
Harley has found Black Canary, just as she is about to become the heir apparent to Ra's Al Ghul. Odd how all the women of the garage locate other women to ask for help. Random male characters in the desert, such as Alfred or the Red Hood Gang, apparently aren't needed.
But Canary is tested by combat against her former love, Oliver Queen, when Harley interrupts. Those familiar with the Arrow TV show will probably enjoy it. Those who have been fans of Green Arrow for more than five years probably will not. It's too much the cheesy fight scene between Stephen Amell and Caity Lotz.
Aneke returns to the drawing board for this issue. I said in my review of issue #4 the artwork got a little sloppy towards the end. Not so, this time around. It is much more consistent, so perhaps a few months off for Ameke to polish some skills is just what the doctor ordered. Nevertheless, I am disappointed in the constant rotation of artists this book has experienced. It's almost as if the title has become a try-out series for novice comic book artists.
Rating: 4/10
Last Updated: February 5, 2023 - 09:06