Google Comics Coming Soon
By Hervé St-Louis
December 23, 2009 - 08:02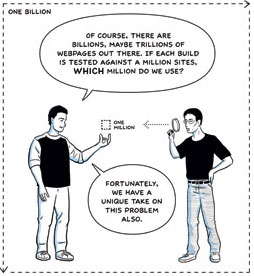 Source: Google Chrome Presentation by Scott McCloud
Last week, Google, the search engine company that earns money selling advertising with search results and occupying every place where information is available bought local search company Yelp. Yelp is a user-driven site where people write reviews about local businesses. Yelp is better known for its restaurant critiques. You may not know about Yelp because it's mostly used in San Francisco, New York and Los Angeles, but it is quite popular as an app for mobile devices. About a year ago, Google started offering movie viewing information to local users. If you're in Calgary and type movie listing, you will find movie information about what's playing locally all the theatres in your town and all the information you need to decide what movie to go to. Just recently, Google improved the listings for mobile devices, although they made a poor job for non English users.
Movie listings and local business reviews were once dominated by many other Web sites that delivered similar information grabbed from databases and offered to users with some graphics, previews and reviews. The model is simple, if there is information that can be archived and mashed regularly, Google will move in and compete with existing promoters with its weight, but also by using its full resources. Soon, information about what DVD is coming every Tuesday will be delivered by Google. They will add a little ad next to it and offer that information in a clean interface making it irresistible to avoid and you'll in all likelihood skip the movie sites you were already relying on. This will also occur to new video game releases. But in this case, Google will be able to show you on a map where is the nearest video game retailer where you can find that new release, just like they do with the movies.
I think you see where I'm going with this. New comic book listings work much like new DVD and video game releases. They come weekly on a specific date and most of that information is already listed on Web sites like The Comic Book Bin as a way of helping our users. That information is exactly the type of data that Google finds easy to mash up and deliver to unsuspecting Web surfers in a clean and elegant way with some extra features. Of course, I have no idea when Google will create Google DVD, Google Games and Google Comics, but I know eventually it will happen.
What does Google Comics means for a Web site like The Comic Book Bin and all the others that offer weekly listings of upcoming comic books? It means that if we don't currently offer a very compelling product, Google Comics will move in our space like they have done in so many other markets and deliver their solutions, with some little advertisement next to the listings and information about where to get the comic books in your area, based on where you are currently located. Even if The Comic Book Bin was able to match all of that, Google would probably take away all of that from us. It's the nature of the game as Google increase its domination of the Internet, offering its own brand of what it calls Cyberspace. It used to be that Google directed users to the source of information they sought, instead of offering it to users themselves.
Last Updated: September 6, 2021 - 08:15