From Comic Book to Film: Coming To A Screen Near You - A New Hellboy II: The Golden Army Trailer!
By Patrick Oliver
April 6, 2008 - 09:26
With a new trailer for Guillermo del Toro's follow-up to the accomplished Hellboy now available on the internet, I thought now would be a good time to remind ourselves of what is in store for Mike Mignola's comic book character in Hellboy II: The Golden Army (August 2008).


That's A Hell Of A Way To Make A Living.

An ages old truce between earth and the mythical world has broken down. The mythical world is now gearing up to wage an all out assault on humankind and wreak havoc with a mighty army of ghouls, fearie and countless monsters.

Hellboy and the team from the Bureau for Paranormal Research and Defense (BPRD) will have a tough job trying to hold off a focused, ruthless prince bent on total domination and his massed hordes.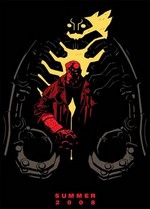 Having enjoyed the first film very much, I am glad to see that most of the original cast of Ron Perlman, Selma Blair, Doug Jones and Jeffrey Tambor (among others) are involved in this the latest offering. The premise of this film seems to give plenty of scope for character development, wonderful cinematography, set design, action and of course, special effects. This is another comic book inspired film that I am looking forward to seeing this year.
Let this remind you why you once feared the dark.


See the trailer here on the official site
http://www.hellboymovie.com/
Or here
http://www.apple.com/trailers/universal/hellboy2thegoldenarmy/
Last Updated: May 19, 2020 - 12:25