Comics / Comic Reviews / More Comics
First Look: Peter Milligan's Punk Mambo #0

By Andy Frisk
October 27, 2014 - 17:05
Peter Milligan, long term Hellblazer scribe, likes to write about London punk magicians doesn't he? He seems to still be looking for his own creation to get some traction to eh? Shade the Changing Man showed up in the early pages of the New 52's Justice League Dark, and quickly went straight back into obscurity. So as they say, try, try, again...

Don't take my sarcasm the wrong way. I really do like the majority of Peter Milligan's work. Greek Street was aborted way too soon by Vertigo. It's just that when Punk Mambo showed up in the pages of Valiant 2.0's Shadowman series, it was a letdown. Milligan is smarter than than this. It's just too incongruous for a younger, female, more cockney and punk version of John Constantine to pop up out of nowhere in the middle of a New Orleans swamp and start slinging the voodoo with The Shadowman. From any other writer it might have been an interesting, albeit still incongruous, move, but from Milligan it feels like a "been there done that" and "stick with what you know" cop out of a character. Well, at least she and Milligan are getting their own mini-series out of the deal...since that is what Valiant is seeming to do with their characters now...so much for the "ongoing."

See the full press release from Valiant Entertainment below: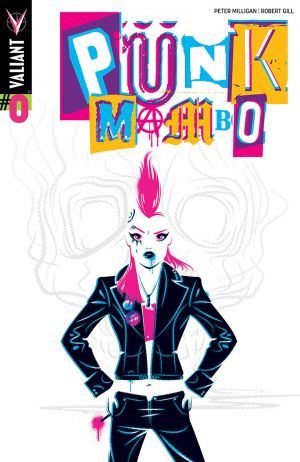 Oi! Valiant is proud to present an advance preview of PUNK MAMBO #0 – a sinister new one-shot tale revealing the origin of Valiant's pogo-punk priestess from comics icon Peter Milligan (Hellblazer) and rising star Robert Gill (ARMOR HUNTERS: HARBINGER)! In the tradition of HARBINGER #0, SHADOWMAN #0 and X-O MANOWAR #0, explore the eerie beginnings of New Orleans' most unorthodox practitioner of the dark arts for the first time anywhere on November 19th!
From a posh girls' boarding school…to the slimy gutter of the London punk scene…to sniffing voodoo glue in a Louisiana swamp, how did Shadowman's black magic bon vivant haul herself from the upper crust to the backwater of the Big Easy's voodoo underground? Punk Mambo is about to head back home to spread some much-needed anarchy in the UK…and confront the ghosts of her past head on! The punks and the voodoo priests she used to know have cleaned themselves up, and she's a loud, belching ghost from their past, come to break in the new furniture…and break some faces!
Featuring covers by Russell Dauterman (Thor), Rian Hughes (Batman: Black and White), and Kalman Andrasofszky (X-23), get up close and personal with the back alleys of the Valiant Universe in PUNK MAMBO #0 – in stores November 19th!
For more information, visit Valiant on Facebook, on Twitter, on Tumblr, and at ValiantUniverse.com.
For Valiant merchandise and more, visit ValiantStore.com.
PUNK MAMBO #0
Written by PETER MILLIGAN
Art by ROBERT GILL
Cover A by RUSSELL DAUTERMAN (SEP141703)
Cover B by RIAN HUGHES (SEP141704)
Variant Cover by KALMAN ANDRASOFSZKY (SEP141705)
$3.99 | 32 pgs. | ONE-SHOT | T+ | On sale NOVEMBER 19 (FOC - 10/27/14)
Image Gallery:

Last Updated: January 24, 2022 - 11:00