Eyeshield 21 volume 30
By Chris Zimmerman
Mar 31, 2010 - 8:00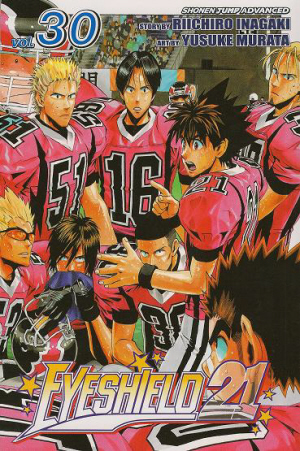 Eyeshield 21 volume 30
After the damage inflicted to their team captain in the previous volume, the Deimon Devil Bats find themselves trailing against the Hakusho Dinosaurs. Sena does his best to fill in but finds it to be much more arduous than he ever imagined. When Deimon's power house, Kurita, begins doubting his ability to protect his teammates from Hakusho's star player, Gao, the rest of the Devil Bats pool their strength in an effort to prevent Sena from suffering the same fate.
Things get interesting when an injured Hiruma makes his return to the field stunning everyone. Despite lacking the use of his arms, his tricks manage to hold the Dinosaurs at bay.
Eyeshield 21 has always excelled at crafting an intense story that rivets its audience and this volume is no exception. The odds are once again in favor of Deimon's opponents though this may be the first time that their victory is in doubt. Since the beginning, it's always been assumed that the Devil Bats would win every game but with their captain injured and their lineman doubting himself, things have never looked so bleak.
When the manga first started, it was described as a coming of age story. At this point, every character has grown significantly and the only thing left is their ultimate goal of making it to the fabled "Christmas Bowl". There are some allusions made as to who they will be facing which once again foreshadows their opponents being unbeatable, which admittedly is beginning to sound redundant. However, if the series can maintain this level of quality, then there is no reason to take a halftime.
Rating: 9.5 /10
Last Updated: Jun 26, 2018 - 9:28