Comics / Comic Reviews / DC Comics
Review: Detective Comics #969-975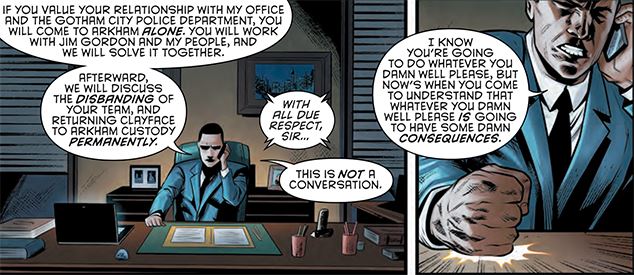 By Philip Schweier
May 11, 2018 - 12:57
"The Fall of the Batmen" begins here, as Tim Drake's return from the dead (different from Jason Todd's) heralds a new beginning for him and Stephanie Brown, a.k.a. Spoiler. Having glimpsed a possible future for himself as a latter-generation Batman, Stefanie believes he's committed to eventually hanging up his mask and cape. Instead, Tim may have plans to avoid such a destiny, while maintaining his costumed crime-fighting career.
Meanwhile, the City of Gotham is concerned for the number of vigilantes who have rallied to Batman's war against the underworld. What was once a lone crusader has become an army, which raises too many questions the mayor's office would rather not have to address.
As for the underworld, the status quo is being challenged by the Victim's Syndicate, which is determined to destroy the Bat-team. Toward that end, they have access to Tim's plans details to weaponize all of Gotham against crime, which includes some uneasy partnerships. The Victim's Syndicate leaks the details to the authorities, takes over Arkham Asylum, and turns allies against one another.
The first five chapters are action packed, building to tragedy and sacrifice. The latter two chapters deal with the fallout, and its impact on the Bat-team, both collectively and as individuals. Decisions are made, compromises are crafted, and new partnerships are drafted that will affect the franchise for the foreseeable future.

I enjoyed this story arc very much. It's filled with action, drama and strong characterization. It also plants seeds for future storylines. The artwork is very good in the earlier chapters, but stumbles a bit toward the end, in my opinion.
Rating: 9/10
Support this writer on Patreon
Last Updated: Jun 26, 2018 - 9:28