Comics / Comic Reviews / DC Comics
Deathstroke #17
By Hervé St-Louis
May 13, 2017 - 10:39
Deathstroke's family problems unravel this issue as Étienne, Joseph's bride, finds out that her future husband has been dating his father's technological equipment provider. Joseph, Deathstroke's son finds out that Étienne has been having an affair with Deathstroke. Meanwhile Rose Wilson, Deathstroke's daughter, finds out that her father has hired a fake Vietnamese family to provide her with comfort. Elsewhere, Deathstroke breaks a big girl's heart.
Christopher Priest has been playing with parallels in this series from the beginning. With all of the family problems happening to the Wilson family, we see how Deathtstroke is playing his kids against one another, manipulating their lives and turning them into murderers and conflicted individuals. The other parallel is with the new Power Girl who is almost a cypher for Étienne whose heart is broken and betrayed by Deathstroke in a most savaged way. There was no love involved but she thought that she could redeem him. She could not.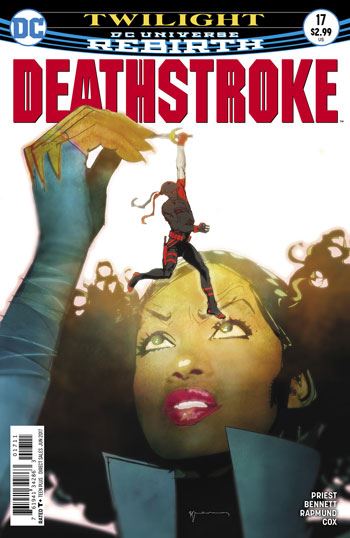 Priest has been setting up this weird story from the beginning but at times, it was almost impossible to see where all of these threads would lead. There is so much to unpack in this comic. It's worse than a caricature of a soap opera at this point. But the tragedy makes it all worthwhile as one wonders how low will Deathstroke fall before he get up? How much more will be destroy his kids before he finally decides that he should put a bullet in each other their heads. Deathstroke has always screwed up his kids but here, he's not just fighting them or turning them into mercenaries. He literally rips their lives apart.
Trust Joe Bennett to deliver a solid comic capturing all the madness in the Wilson family. His work is detailed and just right to capture the beauty of the characters. These are not, however, beautiful people. And the fact that their ugliness is not more visible is a problem!
Rating: 9.5 /10
Support this writer on Patreon
Last Updated: Jun 26, 2018 - 9:28