Comics / Comic Reviews / Marvel Comics
Daredevil #500
By Andy Frisk
August 23, 2009 - 21:13
The 500th monthly published comic book title to bear the name Daredevil, and star Matt Murdock as the title character has arrived. So, like many of Marvel's other seminal hero's titles, Daredevil has returned to legacy numbering. Each one of Marvel's titles to mark milestone issues, and in some cases, return to legacy numbering, have been special events. Daredevil #500 is no exception.


Readers of this issue are treated to two new stories, a preview of the upcoming Dark Reign: The List-Daredevil, a reprint of Daredevil #191 featuring creators Frank Miller, Terry Austin, Lynn Varley, and Joe Rosen, a great "Pinup Gallery," and, like seen in the other Marvel milestone issues this year, a "Cover Gallery" which reprints every one of the 500 issues of Daredevil.
It is the first and longest story in issue #500, "The Return of The King: Conclusion," that is the best of the two original tales. Daredevil readers have been subjected to yet another tale of Matt Murdock's "life as it falls apart" recently in his title. His wife has lost her mind, her parents are suing him for full custody, he engaged in yet another ill timed romance, a character named Bullseye (Lady Bullseye this time) is trying their darnedest to kill him, The Kingpin is trying to use him, then kill him as well, and a cryptic old sensei and a magical/mystical ninja clan is causing Matt all kinds of trouble. Heard it all before? Sorta… It's the lengths Matt has to go to, and the life changing offer that he's forced to accept, that mark the pretty astounding change of direction this title is about to take.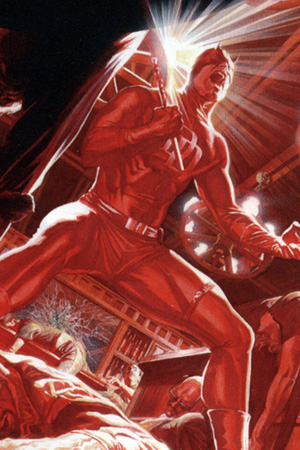 Alex Ross variant cover.
Many loose ends are tied up, and some questions are answered in "The Return of The King: Conclusion," but many more questions are raised. Particularly, the questions of Matt's new role, how he'll handle it, and just how it will play out, will be very interesting to watch unfold. Whether he'll be able to continue parading from rooftop to rooftop in his red tights will continue to cause readers to take interest in the storytelling direction as well. The road ahead of Matt Murdock will be a strange and new one, and worth the monthly wait.
The other original story, by long time Daredevil writer Ann Nocenti, and penciled and inked by David Aja, is a flashback tale of a fight between Daredevil and Bullseye. It's well written and drawn, but nothing spectacular. Fans of Nocenti's run will be happy to see her writing a tale for their favorite hero once again though. Aja's art, as always, is as great as it is gritty, realistic, and dark in nature and tone.
The "Daredevil Pinup Gallery," with art by John Romita Sr, Geoff Darrow, David Mack, Joe Quesada, Brian Bendis, Stefano Gaudiano, Patrick Zircher, Rafael Grampa, and Alex Maleev is rather good, with several of them, if not all of them, worthy of poster size recreation and treatment.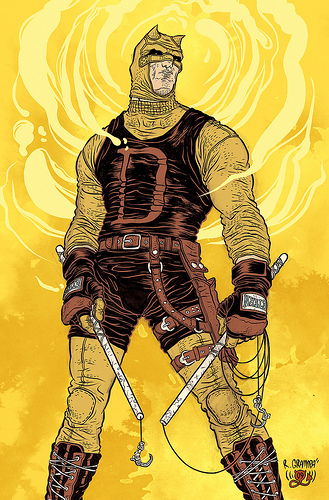 One of the many great "pinups."
The reprint of Daredevil #191 is a classic and well chosen example from the legendary run of Miller, Austin, Varley, and Rosen. It's the type of mature and psychologically complex tale that made Daredevil the character he is today. Unfortunately, the direction Miller took Daredevil in became a bit of a rut that the character got stuck in, as nearly every writer that followed Miller put Daredevil through the same life wrenching kinds of dramas that made Miller's storylines so famous. The new direction Matt Murdock/Daredevil's life takes at the end of "The Return of The King" storyline, while still a life wrenching drama, at least promises to take our hero into new storytelling territory, and that's a good thing, always.
Daredevil had been becoming a bit of a repetitive drag recently. How many times can we see, and endure, a storyline where Matt's life hits rock bottom, his current love interest either goes insane, becomes a mortal enemy, dies, or all of the above, and still be as interesting as the last several times Matt was subjected to these tragedies? Honestly, it really isn't that interesting anymore at all. The new direction that Matt's life is taking can prove to be very interesting from the standpoint of where it can lead, and has the potential for Matt/Daredevil to interact with many more of Marvel's characters than usual. Time will tell, obviously, but Daredevil looks to remain worth checking out each month.
Rating: 7.5 /10
Last Updated: September 6, 2021 - 08:15