Comics / Comic Reviews / DC Comics
Review: Cyborg #15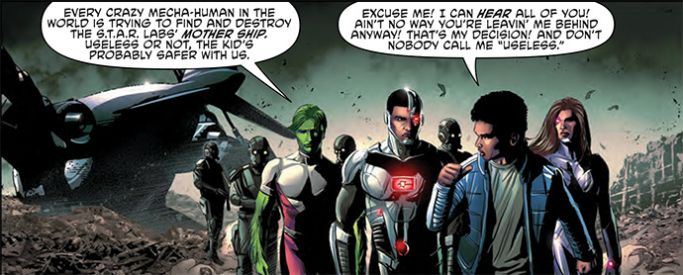 By Philip Schweier
August 2, 2017 - 04:19
God, I hate this book! It is so utterly lacking in originality. Rather than present a remarkable re-interpretation of Cyborg's 21st century potential in the Digital Age, instead it falls so easily into over-used plot devices and clichés.
In the latest issue, Cyborg and his pals have been transported to an alternate reality, in which Earth has fallen into a Terminator-like wasteland, dominated by mechanical zomboids. In this world, Victor Stone's mother still lives, and has abducted him to recover the cure for the digital virus that plagues humanity.
The story begins with our heroes in the thick of battle, midway through the narrative. We flash back to what has brought our heroes to this point, because Semper was unable to offer a better hook at the start of the story. It's an all-too-common narrative ploy, which I attribute to lazy and/or unimaginative writers.
Among our players is Cyborg's pal Exxy, an ordinary Joe with a passion for tech. But among the likes of this world's freedom fighters and heroes like Beast Boy, he seems wholly unqualified for such a dangerous mission. Of course, because he is so easily dismissed, that just means he's going to play a pivotal, life-saving role. It's much like all those episodes of Star Trek: the Next Generation when nobody listens to Wesley Crusher, only for him to save the Enterprise yet again.
No doubt this quest some form of deception at its root, which means it will end in betrayal. I could make additional predictions, but I try to keep my reviews spoiler free.
Rating: 2/10
Last Updated: February 5, 2023 - 09:06