Confusion in the Action Figure Industry
By Hervé St-Louis
August 16, 2012 - 13:19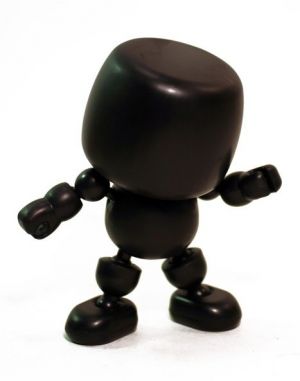 Mallows from Shocker Toys
Years of shake ups and developments of new companies, new licensees, changing demographics and a global recession have left the action figure and toy industries geared towards collectors hurting. Here's a brief look at the scope of the problems.
The market for action figure collecting for older collectors has always been fragile with the market having been recognized rather late at the end of the 1990s. For example, the first Hasbro 12 inch G.I. Joes action figures came after almost a decade of 3 ¾ based action figures for the line. It was clearly aimed at expert collectors that had grown up with the franchise in the last decade and older G.I. Joes collectors from the 1960s and 1970s that remembered the older toys. What changed that segment of the market in North America was Todd MacFarlane's MacFarlane Collectibles which began marketing Spawn-related action figures for older comic book and toy collectors after decrying the poorly designed toys of competitors such as Toy Biz Worldwide which was handling various DC Comics and Marvel Comics licenses at the time.
Other companies such as Sideshow Toys, SOTA and Necca emerged in the late 1990s and early 2000s using the same formula that had made MacFarlane Toys successful. They licensed hot properties and spent more time designing collectibles that would appeal to older collectors. The market of props, statues and resin-based models which had always existed expended and merged with the nascent adult action figure market. Influences from Asia, where collectors' toys had been produced for over a generation for hungry collectors in Japan, Korea and Hong Kong also influenced the North American market. North Americans, it seemed also had an appetite for toy properties designed for Asian audiences.
Meanwhile the Asian toy industries had created new segments that would appeal to female collectors and non typical male and geeky collectors. That market was the designer toy market which influenced many North American smaller producers to try their hand at producing designer toys for hip crowds that could be purchased outside of the typical male-oriented distribution networks. These proved popular, but the knowledge require to pull off a stream of designer toys was very difficult. Most of the toys were produced in Chinese factories and the level of work involved for boutique North American studios trying to develop their own products made in China was very costly and time consuming.
Larger toy makers did not really jump on the designer toy market although they did try to improve their adult properties. For example Hasbro produced the Transformers Alternator line which coincided with Japanese Takara's relaunch of the Transformers' line in Japan.
Then 2008 hit and the credit available for many smaller boutique toy studios such as SOTA and Shocker Toys just dried up. The cost of unsold stock, broken or returned units and fickle buying public submerged in too much product offerings while they had to tighten their purse made the situation almost impossible. The lack of cash flow may have hurt many small companies.
Meanwhile boutique studios owned by larger companies such as the Toy Biz/Marvel Toys unit of Marvel Comics and the DCDirect/ DC Collectibles unit of DC Comics went through changes. Marvel Entertainment offered its lucrative Marvel Comics license to Hasbro. DC Comics renewed its license with Mattel while its house studio DC Collectibles still tries to find its own voice and competes against independent studios for toy licenses of hot properties.
It's not clear if there is a revival in the world of action figures. If there is, it has not been announced. The core market of toys continues to be less appealing with an entire generation of kids playing less with physical toys and moving towards video games and mobile gaming for entertainment. Large toy makers like Hasbro and Mattel are focusing more on the licensing revenues and brand expansion outside of toys of popular franchises like Transformers and Barbie as a way to remain relevant in the changing market for toy collecting. If even the majors are feeling a crunch in the toy market, what space is there for small boutique shops that cater to adult collectors?
Last Updated: February 5, 2023 - 09:06