Comics / Comic Reviews / More Comics
Conan and the Midnight God #3
By Geoff Hoppe
April 15, 2007 - 20:25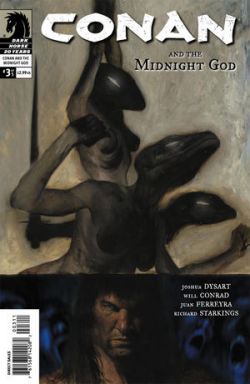 ...And could you get three dates for my friends?

In Conan and the Midnight God #3, King Conan goes deeper into Stygia and learns the truth behind Ra Sidh's plans, and the sorcerer's relationship to the dreaded Thoth-Amon…

The Obligatory Warning: Guts, gore and stabbing in this issue. Conan stories were always violent, and issue #3 is no exception. If you're squeamish, sit this one out.

Writer Joshua Dysart continues to show tremendous potential. He mimics Robert E. Howard's language deftly, and weaves a tapestry of the juicy elements that made Conan stories fun to read: monsters, sorcerers, swordplay, and an emphasis on the conflict between civilization and barbarism (well, I'd call that last element fun). There's a strong Lovecraftian element present with the first mention of the enigmatic "Midnight God." This is decidedly a good thing: Howard's choice to pit his barbarian adventurer against invincible god-monsters made Conan a much more interesting character than he might have been otherwise.

Despite Dysart's talent for mimicking Howard's distinctive vocabulary, he's still in the developmental stage of this process. Previous Conan writer Kurt Busiek had this mimicry down to a science, and his additions to the Conan mythos fit in like puzzle pieces. Dysart seems to be on his way to a similar level of skill, and Conan fans everywhere should hope that he's given plenty more chances to bring the Cimmerian adventurer to life.

Worth the money? Absolutely.
Last Updated: January 24, 2022 - 11:00