Codename: The Cleaner
By Mitch Emerson
Jan 6, 2007 - 11:31
Title: Codename: The Cleaner
Starring: Cedric The Entertainer, Lucy Liu, Nicollette Sheridan, Callum Keith Rennie, DeRay Davis
Directed By: Les Mayfield
Produced By: Lucy Liu, A.J. Dix, Anthony Rhulen
Genre: Action/Adventure, Comedy and Drama
Release Date: January 5
th
, 2007
MPAA Rating:PG-13 for sexual content, crude humor and some violence
Distributors: New Line Cinema
An amnesiac janitor, who is duped into thinking he is an undercover agent, is subconsciously carrying a secret that can link the FBI with an arms scandal. -Yahoo! Movies

As exciting as that synopsis sounds, The Cleaner is even more boring. Sure it has some humorous points, but if you have seen the trailer you have seen most of them. Les Mayfield, who has brought us such great films like The Man, Blue Streak and Flubber has done it again. (Sarcasm anybody?) If I had paid attention to who the director was, I just may have skipped this one entirely. (I will give him props for Encino Man, though). An extremely pointless comedy that will not be remembered next week. I can barely remember the movie and I just saw it three days ago. Do you really want to know what's wrong with this movie? Everything. The only redeeming qualities this movie has is Lucy Liu, Nicolette Sheridan's body, and a cameo by Niecy Nash of Reno 911.
Casting – Lucy Liu just has a fresh spunkiness to her that always seems to make me smile. After watching her as Ling on Alley McBeal for a few years I didn't like her. But, since her movie career has taken off, well until now, she has always been pretty upbeat and that is the only reason I didn't walk out of this movie. Cedric The Entertainer is just trying too hard. Not performance wise, but in his movie choices. It seems like he took this just because he would be the star. He is heading down the same bleak road that Martin Lawrence went down with movies like Black Knight, National Security and the aforementioned Blue Streak. Stick with the supporting roles Cedric. Nicollette Sheridan seems to be trying to cash in on the popularity of Desperate Housewives and I can't blame her. I will give her props on the great physical shape she is in, and we get to see almost all of that shape in this, although in my opinion her face is coming awfully close to hitting the proverbial brick wall.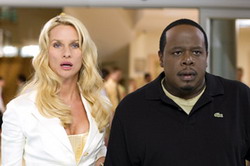 Final thoughts – Skip it and stay home. Watch American Pie or The 40 Year Old Virgin again instead. With plot holes Godzilla could walk through, not to mention the ludicrous "plot" itself, Codename: The Cleaner just needs to be flushed and forgotten.
The day that Cedric The Entertainer is a member of Special Ops will be the day I play Superman.

Keep reading,
Mitch E
mitchemerson@hotmail.com
Last Updated: Dec 19, 2017 - 22:52