Comics / Comic Reviews / DC Comics
Review: Cave Carson #3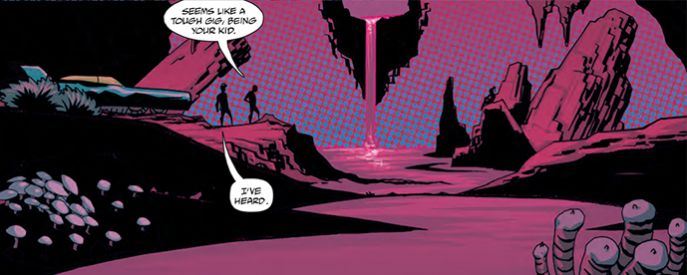 By Philip Schweier
Dec 20, 2016 - 3:42
The adventure continues as Cave Carson, his daughter Chloe, and Wild Dog go underground – literally – in a bid to escape the machinations of the EBX Corporation, as well as some of the creatures that reside deep within the bowels of the earth. But as their journey continues, for every question answered there is another that is asked.
Some matters are a little transparent, such as the big bad corporation running a smear campaign against a loving father, whose best ally appears to be more than a little crazy. The grown child unaware of her royal heritage has also been seen before in countless stories. It's not very original, but I'm willing to forgive that if it builds toward a new spin on a long dormant property.
To guide us newbies into this journey to the center of the earth is Chloe Carson, who is only now learning she is the heir to a mysterious underground kingdom. Cave and his wife Mazra kept it from her all these years, thinking it best she not have to wonder about a life she could never have. Parents make mistakes like that a lot, which is probably why there are so many surly teens in the world.
Again, the art is top-notch, but again, the textures and benday dot effects are distracting. I am uncertain who is responsible, artist or colorist, but I for one wish they could tone that down. Filardi's colors work very well, establishing a broad palette to convey the cavernous bowels of the earth. I suspect few colorists could pull it off as effectively.

Last Updated: Dec 19, 2017 - 22:52