Comics / Comic Reviews / DC Comics
Review: Bombshells United #4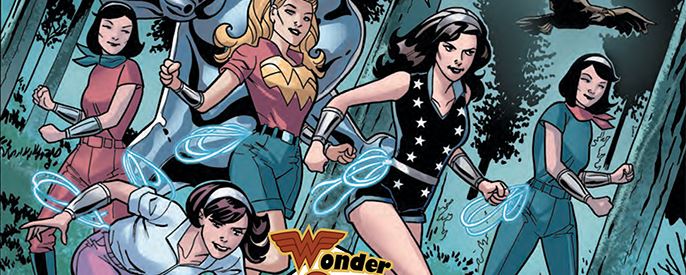 By Philip Schweier
October 24, 2017 - 14:59
The Wonder Woman is gone, and in her place stand the Wonder Girls. They channel the will and the strength of their hero to defeat Clayface, by conveying the mercy and passion for what is right. But it only works when the writer decides it will work. I can't help but feel their strategy would have normally been ineffective, and the results not nearly so… magical.
Because magic is what it is, as the second portion of the story dovetails into the next story arc. As if by some wave of a wand, people are made to realize the error of their ways ands the folly of their path. It stretches the boundaries of credibility, even for a comic book.
While the Bombshells may be united, we have seen very little of them over the past four issues. Yes, there has been Donna Troy and Cassie Sandsmark, but what of the other DCU analogs – Harley, Hawkgirl, Supergirl, et al. for a book that claims to be "united," its cast is somewhat narrow.
The current storyline appears to be over, but as I said, it dovetails into the next chapter as a new threat looms over Los Angeles. The war that gave rise to the Bombshells appears to be over. This being an alternate universe, it was apparently won in short order, thanks to the heroic actions of the Bombshells. But it's still the 1940s, and the style of that era continues to resonate within the title.
Rating: 6/10
Last Updated: February 5, 2023 - 09:06