Binnies 2011: Best Comic Adaptation
By Zak Edwards
January 2, 2012 - 14:21
While it's hard not to look forward to the upcoming summer blockbuster season with both Marvel's Avengers and Christopher Nolan's final Batman film, 2011 could be seen as possibly a more risky approach. Taking characters like Thor, whose over the top natures could possibly not translate, or an X-men origin story, this year was marked by attempts at something new rather than simply sequels. And while some didn't pan out, others did wonderfully. But movies weren't the only place comic books made a mark, television and video games also had some incredible interpretations of our favourite characters and stories. Here's the best comic adaptations of 2011 according to the Comic Book Bin. Remember, more Binnie Awards are just a click away through the links to your right.

Zak Edwards: Batman: Year One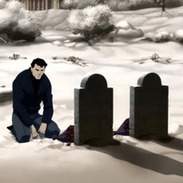 From the film's opening, with a plane flying over a beautifully animated New York City (Gotham City, but it looks exactly like Manhattan from above), I knew I would love this film. At once loyal to Frank Miller's original story and David Mazzucchelli's gorgeous art while being something new and interesting, Batman: Year One was a great ride. I especially enjoyed the film's refusal to shy away from the harsher material, including child prostitution and the frequent violence between cops in the film.
Batman: Year One
boldly stands against simply being an attempt to cash in on prior success or a cartoon for kids. And Bryan Cranston as Jim Gordon is inspired, enough to make up for Ben MacKenzie's terrible attempt at Batman/ Bruce Wayne.
Andy Frisk:
X-Men: First Class / Thor
A tie in this category for me. Both films adapted not just the characters excellently to film, but better yet the spirit of wonder and excitement that the original 1960s versions of these characters ignited in fans.
Thor
was funny, touching, action packed, well acted (incredibly well acted by Tom Hiddleston). In short it was the best Marvel comic book movie since the first
Spider-Man
(well...at least since
Iron Man
).
X-Men First Class
brought the mutant allegory back to its origins by rooting it in the swinging sixties and amping up the social commentary without preaching. Brilliant film all around. James McAvoy and Michael Fassbender created more on screen chemistry as friends then reluctant and admiring foes than scores of other actors in comrades in arms movies, and more realistically. Never has the Xavier/Magneto dynamic and dichotomy been portrayed better. Ever. This film is one for the ages and easily the second best comic book movie of all time next to
The Dark Knight
.
Troy-Jeffrey Allen:
Captain America: The First Avenger
Since the release of
Raiders of the Lost Ark
in 1980, plenty of filmmakers have tried to duplicate that film's reverence for serials (
Sky Captain and the World of Tomorrow
and
The Mummy
series come to mind), as well as its single-minded yet charismatic leading man (Indiana Jones, played by Harrison Ford) but only a few have come as close as
Captain America: The First Avenger
. Pitched as Indiana Jones, Captain America seems almost meta. Here, amongst the growing trend of superhero flicks, is a superhero flick (The First Avenger) that references a movie that references the film serials (
Raiders of the Lost Ark
) that this film's title character used to be part of (1944's Captain America). The film's approach is ballsy (neither
Sky Captain
nor
The Mummy: Tomb of the Dragon Emperor
did well at the box office) and, in many ways, kind of a revelation. That is until you realize that this breed of action hero was always there. Modern sensibilities just forgot about him somewhere along the way.
Colin Anderson:
Batman: Arkham City
Sequels to anything have a tendency to be hit-or-miss at best. Luckily for everyone,
Batman: Arkham City
was definitely a hit. Following up on such an amazing game as Arkham Asylum was undoubtedly no easy task, but developer Rocksteady did so with aplomb and managed to improve almost every aspect when creating this game. While the story is not quite as great as the first game, it is still fun and has sufficient twists-and-turns and serves as a great send-off to Mark Hamill in his role as the Joker. The controls are spot-on and the use of Batman's gadgets are both fun and clever. The game could win this position alone just for the amazing voice cast that ranges from seasoned veterans of Batman: The Animated Series to some new comers, but every single one of them is excellent. Though it wasn't particularly substantial, the inclusion of playable sections with Catwoman added just enough variety to spice the game up that much more. Without a doubt, this is the best Batman game ever created.
Philip Schweier:
Cowboys & Aliens
Any movie that puts Harrison Ford on horseback is aces in my book, but beyond that, the film is filmed with anti-heroes and character evolution that raises it above a mere "American frontier spirit beats back the highly advanced alien race" premise the movie could've easily fallen into. The movie maintains its sense of fun without sinking into silliness, or whoring itself out for a potential franchise deal.
Hervé St-Louis:
Tintin
It's hard to pick between
Captain America
and
X-Men First Class
, however,
Tintin
was beyond all other competitors. Let's just say that
Green Lantern
was decent even if it felt like they painted Ryan Reynold's head of a 3D animated body at times.
Thor
was ok too with lush designs. But Captain America had better looks and a much stronger story. In the end, I'll give high five to X-Men First Class because it was an original story never seen in comics before but that made so much sense and cemented the film continuity of the
X-Men
franchise superbly. Great mentions that we often forget about are video games. I don't play with them, but I like the look of the
DC Online
world and the
Batman Arkham City
video games. Tintin, however was the most ambitious project of them all. I got to watch Tintin in both English and French and although I was mildly annoyed by the British take on the character, I was quite impressed by the faithful dialogues the French cut of the film had. All of Captain Haddock's classic swear words in French were captured religiously. That's when the film became more meaningful for me, as I felt that I could recite every dialogue before they were uttered on the screen. But Tintin went beyond recreating the world adventurer for a new audience while using the original material faithfully. It showed what a real adventure film can be. Tintin is like Indiana Jones, but 50 times more epic. What the film did was prove that the comic book medium is the best for creating worlds and adventures that can entertain new generations, even 50 years after they were published.
Remember to check out the other Binnie Award categories, listed for your convenience in the top right of this very article!
Last Updated: September 26, 2021 - 23:48