Comics / Comic Reviews / More Comics
Bill Willingham's Legenderry #1 Review
By Andy Frisk
January 2, 2014 - 17:00
Fables writer Bill Willingham brings his unique vision to Dynamite Entertainment with Legenderry, a steampunk mash up of some of Dynamite's most popular licensed characters including Vampirella, Green Hornet, The Phantom, Kato, and Red Sonja, to name a few. Set in a sprawling steampunked out Victorian Age looking metropolis where Vampirella runs the most exclusive nightclub in town and The Green Hornet is the city's biggest media mogul (of course), Legenderry #1 doesn't relish in as much of a heady story as it does in its own atmosphere, unlike Willngham's aforementioned Fables. Willingham's ability to create some marvelously quaint, yet loquaciously dense dialogue between Vampi and Britt Reid (The Hornet) is matched only by artist Sergio Davila's hyper detailed artwork, which is truly a feast for the eyes. Davila brings an attention to detail that is almost unparalleled in the sequential art world in Legenderry #1. Everyone is beautiful (especially Vampirella), and every article of clothing, every weapon, and every sequence of panels are exquisite.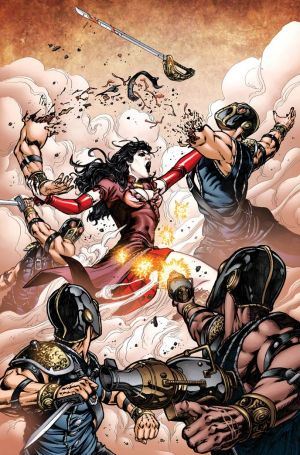 While the atmosphere, artwork, and setting do overshadow the story here in
Legenderry
#1, Willingham does manage to create an intriguing enough mystery surrounding why a heavily armed cadre of steampunk mask wearing men (who appear to be clones of one another) are chasing Red Sonja's sister. It's enough to pique the interest of the reader and make them want to return for what is, hopefully a more story centric
Legenderry
#2. He also manages to work in some deft action when Vampirella tears said heavily armed cadre of steampunk mask wearing men to shreds when they barge into her club.
Legenderry
#1 has the look and feel of the best DC Comics' Elseworlds stories of yesteryear (you know...the days when DC Comics' comics were compelling). I'm glad to see that the spirit still exists out there amongst the mainstream superhero publishers.
Legenderry
definitely looks like it just might fill the Elseworlds void, and take it to a new level.
Rating: 8 /10
Last Updated: January 24, 2022 - 11:00