Betty Page Cleopatra
By Hervé St-Louis
July 12, 2007 - 09:06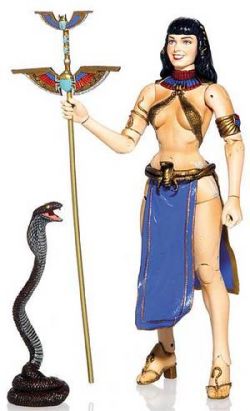 Product shots coming up
There once was this girl who wanted to become an actress yet became a celebrated pin up queen. She disappeared from public view for several years and continued to live a complicated life. While her sexual exploits of the 1950s and 1960s were nothing compared to today's pornography, she left an impression and inspired a whole new generation of men and women to fondle and emulate her. Betty Page, who is still alive as of this writing, born in 1923 has had a few action figures of herself released through Dark Horse Deluxe.
The Betty Page Cleopatra action figure was inspired in part by the series of Betty Page comic books published by Dark Horse and created by Jim Silke in 2000.
Likeness
The face is the classic Betty Page. The body has some of the voluptuous angles of the real model. She is not an anorexic model with fake breasts implanted in her. The smile tries to capture the simplicity of the real Page. It is certainly friendly and inviting. For one thing, the action figure is completely different from the work of artist Jim Silke whose work inspired the action figure. I wonder if this was not done to avoid paying licensing fees to both Silke and Page's estates. I'm glad the action figure did not use Silke's work more, has his rendition of Betty Page is skinny with high cheekbones and muscles.
Sculpt
The sculpting is delightful. It is one of the most beautiful females sculpt I have ever seen. Not because the artistry of the sculpting is incredible. It is not. It's because the proportions of the female form are respected. Most female action figures look like puppets with breasts' implants. Most of Marvel Legends females look just plain, ugly. When you hold this action figure in your hands, it feels like there is something almost alive.
First, she has real hips and a real buttock. He breasts are not too big, yet look sexy. Her thighs are not too thin, but plump and firm. You can even see the stress on her feet, from wearing high heels. This is a great action figure about the female body. I'm not gonna hide this fact, guys. I mean, this is Betty Page . . .
Paint
The paint job is not good. Although there is some shading, there are lots of spills. The paint is too thick and it doesn't give the figure a soft feel. It feels more like one of those ugly mannequins in old stores. Better care with the paint would have made this action figure exceptional.
Scale
Betty Page is six inches. She will make all your Street Fighter, DC Direct and Marvel Legends males abandon their female friends to oozle her, and I don't blame them. If you have larger movie action figures, they too, will look great next to Betty Page.
Stability
Although sporting high heels, Betty Page is stable. It might take some time though, to find the right angle to place her on a desk. She will fall often. There are no peg holes in her feet. Nevertheless, considering she had heels, she is quite stable. Use her staff to stabilize her.
Articulation
Betty Page has 22 articulations. This is incredible for an action figure about an old lady! What's even more surprising, is that they do not take away from the beauty of the sculpt. This has always been a point of contention for action figure makers. How will the articulations reduce the quality of the sculpt? Well, here, Betty Page doesn't have double elbow joints but she still looks decent. The articulations are ball joint shoulders, biceps curls, elbows, wrists, ball joint hips, double knee, ankles and a neck rotation.
Plastic
Made of PVC, Page also has some rubber parts, such has her skirt and hair. The action figure's construction is sturdy enough.
Props
Betty Page comes with several props. Among them is an Egyptian staff, a sceptre, a dagger, some kind of wand and a cobra. Although these are fun most are useless. A base would have been a better choice. At least, the staff, the cobra and Betty Page herself, could have been pegged on it.
Packaging
Betty Page is inserted in a bubble pack glued on a cardboard. On the back of the cardboard, there's the Betty Page Cleopatra image by Jim Silke. The front of the package has hieroglyphs. Wires hold Betty Page still inside the package.
Cost
For about $8 collectors can own this beautiful action figure of one of the most photographed and revered woman of the 20th century. Considering the quality of the sculpt, the articulations and the props included in this package, this action figure is a deal, compared with products from other vendors. It would seem that Dark Horse Deluxe reduced the price on this action figure due to lack of sales. The two other betty Page action figures are listed at $19.99 at Dark Horse's Website.
Availability
This Betty Page action figure is available from Dark Horse and other direct retailer using the Diamond Comics' distribution network. Other versions of Betty Page action figures seem to have sold out from Dark Horse and its retail branch, Things From Another World. Released in 2004, I doubt that this toy was produced in mass quantities and considering the comic book direct market is not necessarily the right one to find Betty Page fans and collector, real Betty Page lovers may have problems locating this action figure.
Last Updated: August 31, 2023 - 08:12