Best of #SDCC - Exclusives
By Dan Horn
July 28, 2014 - 13:58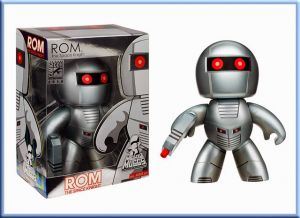 Hasbro's ROM: Spaceknight Mighty Muggs exclusive







IDW
San Diego's own IDW offered a boon of cool exclusives this year including SDCC-exclusive variants of Walt Simonson's Ragnarok #1, Tom Scioli and John Barber's Transformers vs. G.I. Joe #1, and sculpted Locke & Key Alpha keys. Ragnarok is a book every fan of Simonson's Thor or Elric should pick up, blending those two fantastic worlds seamlessly, and Scioli goes full-Kirby on his and Barber's book, making for some stunning interior artwork.
DC Comics
DC offered a number of great comic book exclusives this year, the coolest of them being the Batman #32 Greg Capullo wrap-around variant and the Sandman: Overture #1 hologram variant by J.H. Williams III. Both books are great, so pick them up any way you can get them, holograms and wrap-arounds or not.
Oni Press
Oni's exclusives featured a con variant for Joshua Fialkov and Joe Infurnari's The Bunker #1, a double-sized time-travel thriller. Oni has also recently collected the full series as a trade paperback, and it's brilliant.
Hasbro
I've written about ROM: Spaceknight before, and it seems like someone has been paying attention. ROM was a Hasbro toy which Marvel had acquired the publishing license for in the '70s. That license expired in the '80s and we haven't heard much about ROM since, save for a tangential miniseries and other allusions to his home-world and colleagues and enemies. For the convention, Hasbro has given us our first new ROM in decades, an exclusive Mighty Muggs figurine. Hasbro also offered a cool Kreon Class of 1984 Transformers box-set that sold like hotcakes.
Funko
Hannibal is one of the greatest shows on television, so it's no surprise that Funko was swarmed all weekend with con attendees trying to get their hands on the exclusive Pop! vinyl figurines of the eponymous cannibal and his Thomas Harris-decoupaged Stag Man counterpart.
Boom! Studios
Boom! had a ton of exclusives, best of which were the Amazing World of Gumball mini comic that came in a SNES cartridge, Jeff Stokely's The Woods variant, the Adventure Time: Banana Guard Academy #1, and Darick Robertson's Robocop #1 variant. But seriously--Carlos Magno on Robocop. This is a must-read comic book.
Dark Horse
Man, Dark Horse always has such amazing exclusives, mainly due to their licensing of Game of Thrones, Legend of Zelda, and even Marvel Comics content. This year was no different as they showcased exclusive Lannister family shields and statues of Daenerys's dragons from Game of Thrones, a Stan Sakai variant for The Witcher #1, and a slipcase set of Joshua Williamson, Fernando Dagnino, and Eduardo Francisco's Captain Midnight graphic novels.
Image Comics
Image Comics' exclusives were a little disappointing this year. I'm getting pretty tired of seeing a book a that has only been out for two months having a second or third issue convention variant. How is that a good way to bring in new readers? In any case, Image did offer two interesting books: Low #1 by Rick Remender and Greg Tocchini and the Giant-Size Kung Fu Bible Stories, which features a whole host of iconic comics talents like Bruce Timm, Ryan Ottley, and Erik Larsen.
Last Updated: February 5, 2023 - 09:06