Baccano! the Complete Series
By Chris Zimmerman
Apr 6, 2010 - 13:02
Every now and then, a series will come along that contains all the right ingredients for a hit show.
Baccano!
is one such series; with its smooth story, eccentric but likeable characters, stunning visuals, Baccano! doesn't just stand above most recent anime, let alone television today, it blows them out of the water.
Told in a non-linear format, Baccano! focuses on a sizeable cast of characters whose stories all differ but eventually converge to present one coherent plot. No one arc takes precedence over the other and no one character is more important than another. Sure, some get more screen time than others, but in a show that lacks a specific protagonist, it's the character's actions that truly make them unique and worth watching.
Honestly, describing Baccano! is one of the most painstaking things a person can do. When a show's beginning also acts as the end of a major arc, there are sure to be more than a few people left scratching their heads. This is a series that demands multiple viewings. Some scenes that initially appear to be of little consequence serve as pivotal plot points later, acting as driving forces for what comes next. There are two main arcs that run throughout the show with both taking place in different eras despite sharing the majority of the characters. As the series progresses, it becomes easier to figure out which one follows which, and only furthers one's appreciation for the show's storytelling.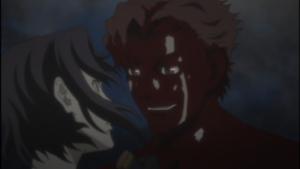 Claire and Chane
After all, Baccano!'s greatest strength is its ability to tell a simple story in a way that isn't traditional without being detrimental to the viewer's experience. Set between flashbacks that cover the years 1711 to the 1930's, the show already finds itself at a disadvantage with so much time elapsing between the two. Thankfully, the series is able to overcome this by keeping the plot in constant motion.
As characters are introduced, their interactions with one another introduce a new situation, with each story beat building off the previous one. Changes between their points of view and even the time periods they inhabit hold the audience's attention as seemingly unrelated events all mesh together to deliver one catastrophic situation after another.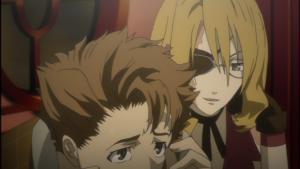 Jacuzzi and Nice
Baccano! is sure to appeal to those seeking action and/or comedy. Those coming into this looking for fast paced action scenes with blood spilling everywhere won't be disappointed. Others seeking comedy won't be left wanting as several of the character's eccentricities provide humorous moments even in the most dire of situations.
As expected, Funimation goes above and beyond in delivering a voice cast where every actor's voice matches their character. Even newcomers like
Bryan Massey
whose voice perfectly echoes the madness of his character, manages to turn in the most memorable of performances, selling him as the big deal the show makes him out to be.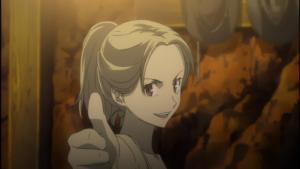 Miria
Baccano! isn't a show that will appeal to the masses. It's unique blend of action and humor topped off with a story that is broken up with multiple flashbacks is sure to give anyone a bumpy ride. Those who stick with it however, will discover a wonderful series unlike any out there. Watching Baccano! is an experience, and one that should be felt at least once.
A
Last Updated: Jun 26, 2018 - 9:28