Comics / Comic Reviews / DC Comics
Astro City #40
By Avi Weinryb
Nov 9, 2016 - 0:33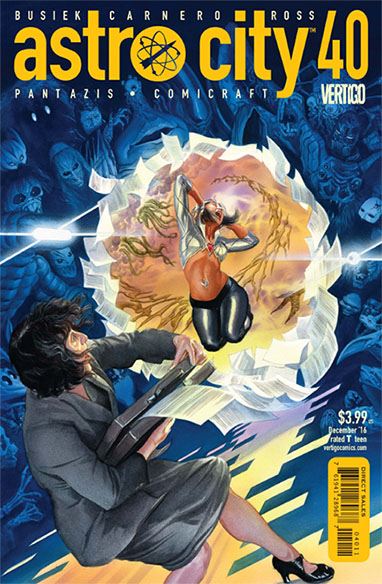 This issue of Astro City features Marta, a character some may recognize from the property's original six-issue run. Since the books operate on a real time-line, she has visibly aged, just like long-time readers. In this issue, Marta is established as a psychic, in addition to being a lawyer, and is able to summon and communicate with the dead. This isn't unusual for folks in her Astro City neighborhood, where it's quite normal to encounter the supernatural. For Marta, it's not ghosts or ghouls that throw her off, but rather all the superheroes running around on the periphery. It's not that she dislikes them; it's just that they seem so distant and unknowable. This changes for Marta one day when she's summoned to defend the Silver Adept, a world-saving hero who has been tapping into a power source that is guarded by jealous gods. Will Marta be able to survive the encounter and return to her quiet existence? And if so, will her life ever be the same? The answer to these questions is satisfying and fun, just like this book. One doesn't need to have read previous issues to enjoy what this edition of Astro City has to offer.
This fun outing by Kurt Busiek continues to demonstrate why he's such a treasure. The script is wildly creative and provides a fun yarn in addition to expanding the Astro City mythology further. Marta, as a relatively normal person, is our entry-point to a fantastic other world. When she stands up to the god Krannik in his own court, we're both terrified for her as well as delighted. Her perspective would be no different than our own - experiencing the power of superheroes as an innocent bystander and encountering unusual gods of immense ability.
Carmen Carnero's guest illustration work is top-notch in this issue. The composition, perspectives, characterization and other details are all excellent. I'd read any book illustrated by Carnero. And of course, one would be remiss to not offer praise to Alex Ross' gorgeously painted cover.
Astro City is a solid read and #40 is a great issue.
Last Updated: Jun 26, 2018 - 9:28