Arrow episodes #1 and #2 review
By Alexander Jones
October 19, 2012 - 03:04
Spoilers for Arrow episodes one and two below!
Arrow is a very interesting beast. On the one hand it is a an epic noir style superhero drama; on the other hand it is a traditional CW soap opera. It is in its CW soap opera element that it falters. The show has two different masks and in its efforts to wear both wears neither one especially well. It's also hard to shake the feeling that if this show was on a bolder cable network, like AMC or HBO, Arrow could be wonderful. The show still has some well choreographed action sequences.
One interesting thing about this interpretation of Oliver Queen is that he has no qualms about killing. He is also characterized as a jerk after a horrible accident. Queen's family is also full of attractive CW good looking people. His mom does not seem too distressed over her former husband's death which was a suicide. His sister has a bad drug habit. In one of the more touching scenes in the pilot, Queen pickpockets his sister's cocaine and throws it in the trashcan. There is also an amusing line about Twilight that made me chuckle.
A big problem with the cast is that there is no one besides Oliver to really latch onto emotionally. The mom has these nasty motives at play that make her unlikable. Oliver Queen's best friend is a horribly cocky rich suburbanite. Then there is the sister, who not only has the cocaine habit, but is lying to everybody in the family about it. The moments where Oliver monologues from the first person narrative are also cringe inducing at best. In fact, much of the dialogue seems overwritten and forced. The only thing to sink my teeth into was the action.
Although it is difficult to see the light at the end of the tunnel, Arrow still has potential. Pilots always contain excessive exposition and have to introduce an entire cast. While the show definitely faltered in its first episode, the second installment does more good than bad.
The most compelling hook of Arrow is seeing Oliver Queen's origin about the mysterious island. This storyline in particular is also worthy of interest to comic book fans because it stays true to Green Arrow's origin. When Queen flashes back to his memories of how he becomes the Green Arrow the viewer has the suspense of waiting in horror as something strange or creepy happens. The stakes are also higher on the island because of the Deathstroke mask tease in the first episode. After Queen's father after sacrifices himself to save his son, Queen finds a book in his dad's pocket with a list of names.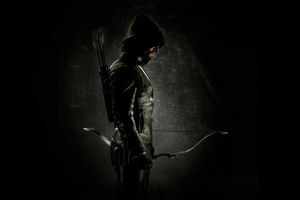 In the opening of the second episode, Queen states the notebook is a way to right the corrupt Queen industries wrongs. We also learn Oliver Queen's father founded the company. While the inner monologue narrating the situation is still over the top it seems to be developing more each time the narration comes into play. For the Queen family as a whole redemption seems to be an ongoing theme. Queen's sister Thea goes through a redemptive character arc in this episode. While Thea isn't the textbook definition of perfect it is shown that she truly does care about her brother. Another hidden surprise for comic book fans is Thea's nickname speedy, along with the cocaine element which serves as a surprise for comic fans.
The fact that Oliver Queen had to be legally declared alive is a nice piece of logic that television usually glosses over. One sequence that will further draw comparisons to Batman Begins is the vanishing that Green Arrow borrows from Batman. The other problem is that the Batman vanishing sequence happens twice in one episode. This show needs to take an effort to carve out it's own path. A gritty realistic superhero television show is a unique idea and should be treated as such.
As Queen starts to reconnect with Dinah Lance, the touching moment is cut short when armed thugs attempt to kill her. Which makes the relationship more interesting due to Dinah possibly figuring out Oliver Queen's secret double life.
The episode ends where it began on the island with a father and a son. Arrow shows potential and perhaps in a few weeks the potential will be realized. For now the show requires cautious optimism and open minds from the viewers. More importantly the show must establish a voice and a tone.
Rating: 7 /10
Last Updated: January 24, 2022 - 11:00