Arrow The Odyssey Review
By Alexander Jones
Feb 14, 2013 - 3:15
Upon viewing this week's episode of Arrow last week's score is retracted. The reason for this is that while last week's episode of Arrow was really good this week's episode is actually incredible.I would now consider last week's episode an 8 out of 10. Did anybody know that this series had the potential to be this good? Reviews for this show are going to be harsher from here on out because The Odyssey was a shining example of Arrow at it's absolute best. While not every episode can share this sheer amount of greatness what I do expect going forward is a higher standard of quality.

With all of that said this episode kicked into high gear with the virtually as soon as it started. Ollie had crashed into his Queen consolidated with the intentions of learning the truth from Moira. Moira is character not written well based on the fact the audience is supposed to feel sympathy for her but simply do not. After stumbling Ollie back to the
Arrow
cave in his nightclub via Felicity Smoak, Diggle and Felicity brought him back to life. The weight and heaviness of the Island brought a sense of urgency that was fulfilled this week even in the present day shockingly enough. Watching two people save a man from the dead is enthralling. Having Felicity help Diggle and Ollie was a very good move and gave depth and heart to the characters in this episode.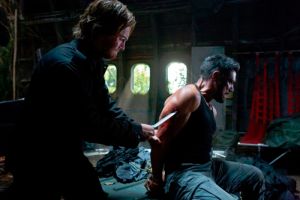 Even though the present day scenes were great it was truly the Island that made this episode delightful to watch. Much of the tension was built simply because Ollie is untrained. Although someone could argue that stakes fall because we know Ollie is not going to die on the Island the events that we know for certain that traumatized are still engaging and completely worth watching. Also we know nothing about the supporting cast on the Island the audience does not know who lives or who dies. This is one aspect that the show has been handling with great care. One important aspect about this episode that many may have missed due to
all the great action was when Fyers made a phone call to the boss.
One who assumed that the enemy that Fyers called was linked to Moira and Malcom. Slade Wilson was as great of a threat on television as he absolutely should be. The show nailed the representation of him in almost every respect. Watching Ollie stumble through Fyres men was a nothing short a of a thrill ride. As was watching Oliver finally make the decision to stop being a horrible person and go save Yao Fei. This is television so of course it is not going to be that easy. Yao Fei has a daughter trapped on the Island and things continue to go south from there. But wow was Slade delivering that knife into Billie's eye horrible, gruesome, and fun to watch. The only thing that desperately needs to happen is some revelations from Moira. Well done
Arrow
!
Rating: 9.5 /10
Last Updated: Dec 19, 2017 - 22:52