Arrow Legacy Review
By Alexander Jones
Nov 16, 2012 - 1:58
Arrow continues to be on upswing over these past few few episodes. Many of the fundamental problems of the show have been addressed with care. Also characters who were initially awful and hard to root for are much more sympathetic now. Initially these problems were so jarring that the show just felt empty. Now that the supporting cast of the show is growing three dimensional the show is just simply that much easier to digest.
Of course the island is a major player in every single episode of Arrow so far. The episode toys with the theme of atoning for the mistakes of Oliver's father. What we don't know is what those mistakes and how they are relevant to the names on the list. Ollie hallucinates on the island that his father is indeed with him. He then disappoints his father by attempting to take his own life. it's fun to see lead actor Stephen Amell transition Oliver from a ungrateful suburbanite to a hero of the people. Once Ollie is spared from his suicide attempt he wonders why he is still alive. He then finds the list from his father full of the names of the villains of Starling city. Oliver must lay for the sins of his father.
One problem with the show that still exists I the villains. Every week the villains make comic book fans excited because they leap out of the comics page and all have pretty great costumes. The fault lies in the fact that the villains have style but little substance. This week's Royal Flush Gang was no exception to any of the previously stated rules. The storyline followed a cliche last score and then I'm out story. The fun of the storyline was watching Oliver and Diggle take the them out. Speaking of Diggle really grew as a character this week. He stuck to his convictions and made Oliver do what he thought was right. Everytime somebody says no to Ollie is a very rare and welcome occasion.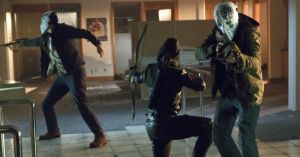 The subplots with Laurel, Merlyn, and Thea were also well written. Merlyn flirts with Laurel and shows some redemption by actually wanting to be in a full blown relationship. Seeing Laurel in a relationship with someone other than Ollie would be refreshing because we all know Ollie and Laurel will eventually get together. Thea's little harmless crush on Merlyn ended catastrophically she is truly lonely with the rest of the family being so caught up in their own dealings. Se used this reasoning to redeem her character and it works because it is hard to be so lonely. Think about how many times Ollie has disappeared on her. Her wild behavior is only an attempt to get some attention. With that in mind it was surprisingly up to Merlyn to take care of her Laurel was so impressed that she kissed him and the audience was surprised as well. The only subplot that didn't work was the attempted redemption of the Mom she has so many secrets and shady business dealings I can't trust her as far as I can throw her and Oliver needs to do the same. Arrow was simply great this week only few things were actually holding it down.
Rating: 8.5 /10
Last Updated: Jun 26, 2018 - 9:28