Comics / Comic Reviews / DC Comics
Aquaman #21
By Hervé St-Louis
May 13, 2017 - 10:36
Aquaman and Mera conquer their fear and travel to Tethis the alien world responsible for transforming people into dead water creatures. As they make contact with this new world, the others above on Earth are wondering if they should lock the interdimensional gate with nuclear bombs. But if they do so, Aquaman and Mera will be locked away. Will Aquaman and Mera return in time to stop a nuclear attack on Tethis?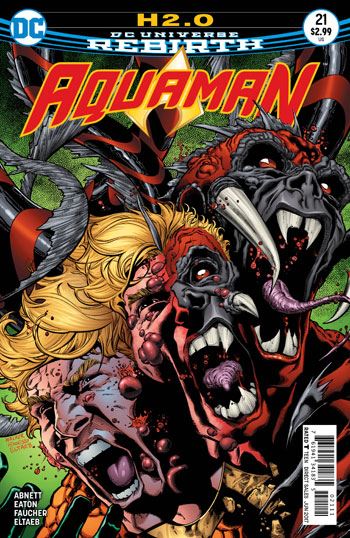 This storyline has been action-based and almost like a horror movie. But unlike a horror movie, Aquaman and Mera have been there all the way to rescue the humans being attacked by dead water creature. But now the evil creatures are the humans themselves. I like that the table are turned against the humans and that their fears are the triggers for the alien world's hostility. I like how Mera and Aquaman defeated their own fears and travelled to Tethis safely. There are many lessons to learn about human nature in this story and it's good to see heroes prevail without having to fight or use force.
Scot Eaton's work is solid as usual. Although some of the alien creatures on Tethis look cool, his strength is with technology scenes and military gear. But no worries. Aquaman and Mera look swell when they swim!
Rating: 8 /10
Support this writer on Patreon
Last Updated: Jun 26, 2018 - 9:28