Comics / Comic Reviews / More Comics
Alien Pig Farm 3000
By Andy Frisk
December 3, 2009 - 22:35
Raw Studios, the brainchild of actor Thomas Jane (The Punisher, The Mist) and Eisner Award nominated illustrator/production designer Tim Bradstreet, serves up some good natured sci-fi silliness with Alien Pig Farm 3000. It seems a few million years ago some rival alien races, and their starships, were duking it out with one another over what would one day become the state of Kentucky, a bastion of good ole' boy and girl American South. One of the alien ships crashes, putting its occupants into stasis where they've slept undisturbed until a couple of moonshine running, mullet sporting step brothers, Johnny Ray and Elvis detonate some TNT in an effort to destroy one of their stills before the local cops catch 'em red handed. Elvis accidentally wakes up the aliens, who end up having a mighty appetite for pork, and the local redneck community…When one pork loving alien sets his sights on Cindy, Johnny Ray's step sister, and lover, the mullet brothers gotta do what they gotta do. Namely, they gotta tan some alien hide!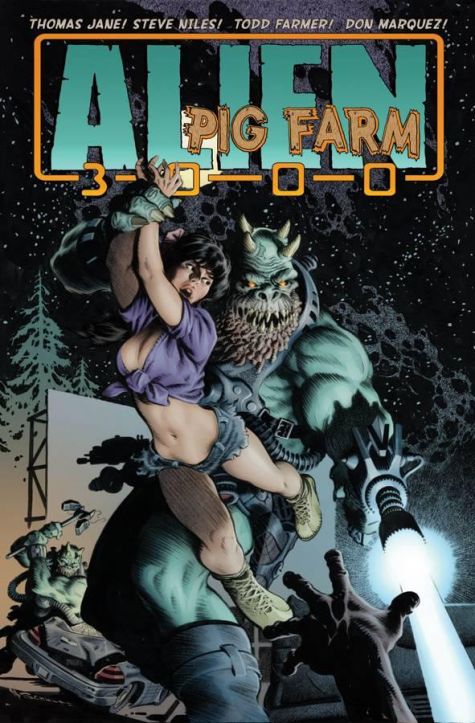 Alien Pig Farm 3000 is a tongue in cheek, sci-fi meets deep south white trash action/horror adventure that is at once silly, genuinely funny, slightly disturbing (there's no real incest-Johnny Ray and Cindy aren't blood brother and sister), and fun to read. There's no doubt that Jane, Farmer, and Marquez intended it to be anything but. Johnny Ray and Elvis are the Bo and Luke Duke of Kentucky good ole' boys with parents right out of The Jerry Springer Show (Springer is their "Papa Dad's" favorite show). They all seem a little hopelessly stereotypical, that is until the aliens show up. When the chips are down, these good ole' boys and gals know how to deal with them pig sucking monsters! They unite and show there's more to them than their mullets, daisy duke shorts, and moonshine distilleries.
Marquez's art captures well the silly, overdone, and aforementioned stereotypical look of Johnny Ray, Elvis, and Cindy. They really do look like they just walked off the set of The Dukes of Hazard or a Jerry Springer Show episode on kissing cousins. What he also, and more significantly, captures is some pretty nifty 1950's type sci-fi appeal. When the covers by William Scott and Mark Shultz are added (especially Shultz's) the classic sci-fi look is completed.
Overall, while definitely not for the kids, Alien Pig Farm 3000 is good fun, if not terribly original. It's a promising early effort from a new studio that also shows plenty of promise.

Rating: 7 /10
Last Updated: January 24, 2022 - 11:00