Adventure Time: Jake the Dad
By Hervé St-Louis
September 17, 2013 - 15:58
Adventure Time: Jake the Dad
is a compilation of various episodes with father themes. The collection serves as a good introduction to casual viewers of Adventure Time and those looking to watch some of their favourite episodes in one sitting. Although the 16 episodes did not create one comprehensive story, it provided me with an in depth introduction to a popular cartoon series that is more than a show for kids.
When first offered an opportunity to review Adventure Time a few months ago, I passed, thinking it was a show aimed squarely for kids. The simple design failed to betray the multiple layers of storytelling and themes explored in this animated series. Adventure Time is one of these new series from Cartoon Network like Regular Show that seek to bring a Nickelodeon spin to the super hero, Looney Tunes and Hanna Barbera roots of the Warner Brother animation network. Warner Brother animation, except for the Hanna Barbera studio acquired later was always known for its focus on pure animation dynamics and movements. It wasn't a studio inspired to explore unique animation designs and styles that borrow less from traditional realistic illustration. Adventure Time seemed like a show aimed for toddlers. Boy was I wrong.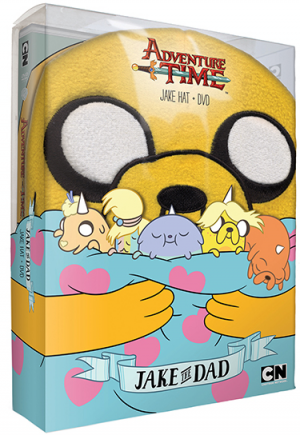 Adventure Time has gained an important cult following since it was first introduced in 2010. The first episode on the Jake the Dog's newborn pups was standard animation fare but with just enough subversion to entice me to watch more and totally fall for this series. The main protagonists of the series are Jake the Dog, a magical dog with shape-shifting abilities and Finn the Human, one of the few of his kind left on a post apocalyptic Earth turned into a magical colourful and psychedelic world. It's hard for me to explain what it is about this series that gets to me. It's not overtly adventure-oriented or even super mature. It is simply charming with complex characters that go through life not exactly knowing if there is a purpose to their madness. But there is purpose to the madness. Something happened to the world that turned it into a magical realm to hide the ugliness of the past. But Adventure Time is too subtle to hit its viewers with that kind of message. It's just across the horizon and imperceptible, yet omni-present.
1. Jake the Dad
2. Burning Low
3. Gotcha!
4. Sons of Mars
5. BMO Noire
6. The Hard Easy
7. I Remember You
8. All the Little People
9. Mystery Dungeon
10. All Your Fault
11. Five More Short Graybles
12. Vault of Bones
13. Simon & Marcy
14. Puhoy
15. One Last Job
16. BMO Lost
Rating: 9 /10
Last Updated: February 5, 2023 - 09:06