Comics / Comic Reviews / More Comics
A Red Mass for Mars #3
By Zak Edwards
June 23, 2009 - 15:07
For many people, the name Jonathan Hickman means the guy who is about to take over Fantastic Four or the co-writer of Secret Warriors. But for those who have been watching the scene behind the two big comic book publishers, Jonathan Hickman means a whole lot more. Creator of such series as The Nightly News, Transhuman, and Pax Romana, Hickman has been bringing a well-studied approach to science fiction for a few years now. I was beginning to worry about Hickman's independent series, now that Marvel Comics has been giving him so much work, but it looks like fans now have another issue of Red Mass for Mars, a book about the end of humanity.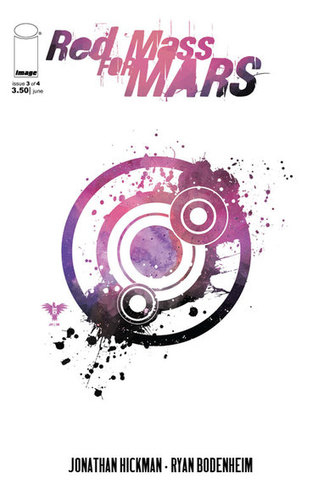 One strength of Hickman's writing one can notice immediately is how he is an obvious student of science fiction. Hickman has studied some of science fictions greatest authors and it shows in his work. A Red Mass for Mars is very aware of the tradition of science fiction, creating a discussion of conventions. Even the basic story is one of very familiar territory: an alien horde is coming to Earth to destroy it and only one man has the power to do anything about it, sounds familiar, doesn't it? But within this story, Hickman is creating a story which is all to aware of the generic pitfalls of science fiction. When a bomb is created which will wipe out the coming alien horde, a select team of heroes is sent to detonate it. But Hickman kills the team off-screen and the dues ex machina of the black hole bomb comes into the hands of the enemy. The one man who can save them is unwilling and probably incapable despite any hope. And the protagonist, a man who can see into the future, is completely aware of the futility of the struggle to survive. This is what makes Red Mass for Mars so worth reading, it is not what you expect, and I believe Hickman has a conclusion lined up next issue which will blow this thing away, and probably more literally than expected.
As for the art, Ryan Bodenheim and colour assists by Marty Shelley is really a joy to look at. I mention Marty Shelley because of the colouring of this issue, which really struck a chord with me. The backgrounds, almost all of space with crazy colour schemes of blue and red or brown and yellow, help create mood within the scenes while maintaining a surrealistic experience. This type of future is very foreign and I like how the background colouring works with this. His characters are expressive and play with convention just like the script. Many characters look like the archetypes they mimic, yet in the scenes in which they react against these ideas, the characters can look very unlike themselves in often shocking ways.
8.5/10 For those of you who like Secret Warriors, go back and read Hickman's other stuff, this series included.
Last Updated: January 24, 2022 - 11:00