Comics / Comic Reviews / DC Comics
Aquaman #23
By Hervé St-Louis
May 19, 2017 - 09:32
Corum Rath wants to be the new king of Atlantis and leads a rebellion against Aquaman to claim the throne for himself. Atlantean elders seem to support him and have even arrested Tula, Aquaman's regent. Will Aquaman be able to claim his throne again or is it too late?
This issue continues plot points from the previous Aquaman series and new material developed in the current run. Atlantis-based stories have always been a challenge for Aquaman as they dig into the soap opera and political drama aspects of the character, while using an alien world as the setting. These stories always risk being too alien and remote for audiences who probably prefer that Aquaman be featured as a super hero.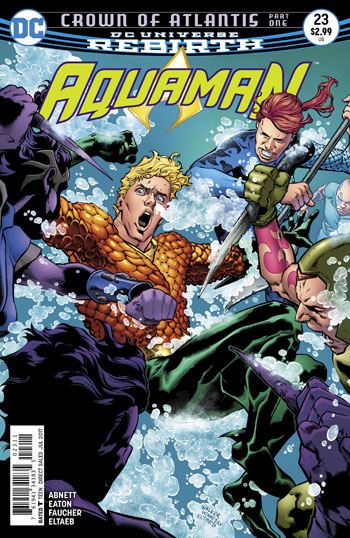 With the amount of action and fighting this issue, Dan Abnett seems to have avoided the political drama and soap opera in favour of a direct action line where everything was brewing for months but only came up as now as a fully developed conflict. I cannot blame him for using this strategy to write about Atlantis which has always been a core part of Aquaman. The story is decent and we know that someone is pulling the strings. It does make me question if Abnett will have Aquaman spend much more time in Atlantis after this crisis is handled or if he will continue to be a man of both worlds.
Scot Eaton continues to draw a clean and effective Aquaman although characters' hair could be flowing much more.
Rating: 8 /10
Last Updated: July 2, 2020 - 16:53