1 vs. 100 Comes To Xbox 360 In a Big Way
By Eli Green
May 6, 2009 - 09:00
The video game world is about to get a lot more interesting and socially interactive for average and casual gamers. Yesterday, members of the international video game press were given a first hand preview of the upcoming live online 1 vs. 100 Live and 1 vs. 100 Extended Play gaming experience. Developed by Microsoft Game Studios and launching, exclusively for Xbox Live Gold members to download, 1 vs. 100 Live will be a live, weekly two-hour "show" with hundreds, and possibly thousands, of players competing online, simultaneously, for the chance to win real prizes.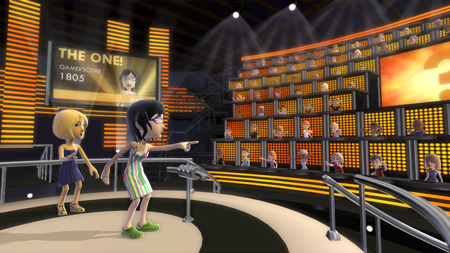 Tap the Y button and you'll taunt or rile up your opponents and friends.
As in the 1 vs. 100 television game show upon which this game is based, someone will be chosen to be The One and have the chance to answer trivia questions for points. The only catch, aside from losing the game if you answer incorrectly, is that The One only accumulates those points by eliminating the members of the "Mob" of 100 other players, who are only eliminated if they answer the questions incorrectly themselves! The only difference in this version is that players are competing for prize points instead of cash. Oh, and spectators actually get the chance to play along, as part of The Crowd, for their own prize points and an opportunity to become one of The Mob or The One themselves. Yes, there's no need to scream answers at the TV anymore, because you can play along too, whether you're part of the game or just watching from the sidelines. Better yet, you'll be able to use your own Xbox Live avatar in the game, so if you end up as one of The Mob or as The One, everyone will get to see your personal style for themselves.
1 vs. 100 Live will be run on a seasonal schedule, hosted live by Emmy award-winning Chris Cashman every Friday and Saturday evening. Cashman will host the games via a live audio stream and give overall game commentary, including game status, rules, etc., as well as send shout outs to players who are playing particularly well. What if you don't have an Xbox Live Gold membership? Well, since the game can be played with up to four players at home, as long of one of the four players has a Gold membership, the other three can join in the fun (though they won't be eligible for prizes). This Friday will see the launch of the game's Canadian beta, which will, hopefully, help Microsoft Game Studios work out any remaining kinks in the game. Players who participate won't be able to win any of the regular skill-based prizes that will be made available during the season, but they will be eligible (as long as they are eligible Gold members) to win Canadian Beta 1 vs. 100 Sweepstakes prizes.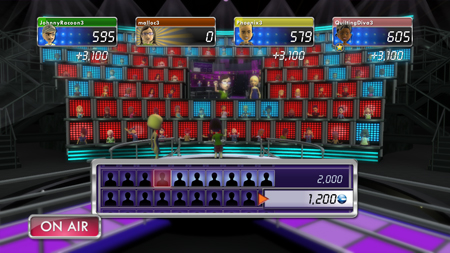 The Mob is seeing red after a major elimination.
During the season, and available any day of the week, players can hone their trivia skills in the 1 vs. 100 Extended Play. You can see how you stack up against your friends as you and thousands of others play as The Mob for top score. In 1 vs. 100 Extended Play you don't have a chance to play as the one, and there is no live host. There are still prizes to be won however, making it all the more worthwhile to play. Extended Play will also include different themes and fresh questions every weeknight, with various topics, including Player Written Questions, Battle of the Sexes and Super Hard.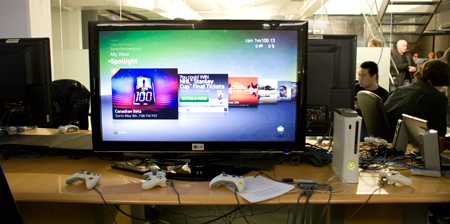 One of the consoles is sitting, ready to play.
When I, as well as a number of others from the Toronto-area video game press, got a chance to see the game for myself yesterday, I was quite impressed. I had my doubts and concerns as to how Microsoft Game Studios would go about making a Live Arcade game on such a large scale, but it seems those concerns were quite unjustified, not to mention minimal, as I had only expected the game to be a 101 player trivia match up, not a full blown game show massively multiplayer online game with the potential of hosting thousands upon thousands of people, as Microsoft is suggesting it will be.
From Toronto, we joined a Canadian beta game hosted live from Microsoft's Redmond, Seattle studio, with Cashman hosting over a slightly time delayed video (the video portion won't be happening during the beta or final launched product, it was just used to show that the game is actually live) and some of the game's developers playing as part of The Mob (and a couple times as The One). Cashman welcomed us all to the game and we logged in and got things going. From there, the room became a mess of noise, announcing and laughter. Everybody around was having a great time, shouting out answers joking about how easy some of the questions were (the early ones) or how odd some of them were.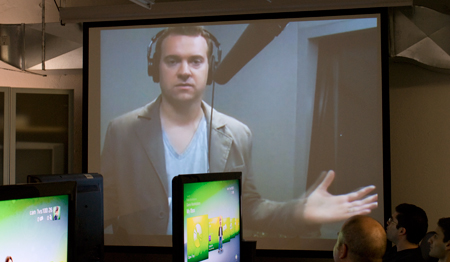 Chris Cashman logs in and welcomes the players to the game.
More interesting though, were a few short moments showing how unique the game is and, when the beta goes live this Friday, will be. During one of the breaks in play, Cashman was making some basic commentary and somehow ended up mentioning former U.S. President "George Clinton". Oops. Well, live is live. While he was on time delay, Cashman was not being censored in any way (though he likely will be during the beta and after launch). He also made shout outs to various players in the Toronto group and even took a call from Sun Media's own Steve Tilley, though Tilley had to hand his controller over to someone else while he was on the phone (thus showing that live calls with active players may not be a great idea, even if it is a really cool one).
Overall, the game was a lot of fun. I spent some extra time, after some of the other journalists had left, to play a bit of Extended Play. It's not quite as fun when the questions are less varied and there is no one to compete against (there wasn't really anyone else around or online on the beta by that point), but I expect it will be considerably more enjoyable once the beta is live and more people are playing with you.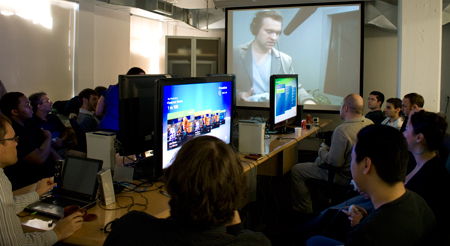 Cashman starts introducing the game while the players go through the game's launch screen.
The Canadian beta actually includes a decent amount of Canadian content, even stuff about curling and the Queen (crazy, I know). Unfortunately, you won't see many questions like those outside the beta, because once the game goes live in late spring/early summer, Canadians will be playing together with Americans. Any Canadian specific content that does appear during the season will end up being more accessible, general knowledge.
Either way, I highly suggest that you download the beta when it becomes available and get playing. All you need is an Xbox 360 with a hard drive and an Xbox Live Gold membership. You can make your own party online, or stay connected with a regular party and continue talking with them. It's a lot of fun and, best of all, an, overall, family friendly game (it's rated T for Teen, but if you let your kids watch the show, you likely won't mind them playing the game). The Canadian beta for 1 vs. 100 Live and 1 vs. 100 Extended Play will launch Friday, May 8th, going live at 7pm Pacific Standard Time, and conclude on Sunday, May 24th. For complete details, go to http://www.xbox.com/en-CA/live/1vs100/.
Last Updated: August 31, 2023 - 08:12