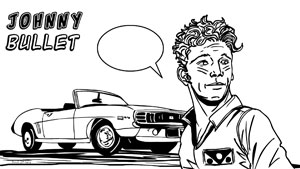 Comics News
Top Trending Pages in June 2016
By Hervé St-Louis
July 11, 2016 - 18:24
12-Zootopia
The review of the DVD/Blu-Ray Zootopia starts off this month's list. Zootopia was an excellent movie. I saw it after the review by Leroy Douresseau. I highly recommend this film. It was so good that I want to write my own review of it. It is an incredible critical look at our society.

8-Northlanders #23
Sometimes, articles from our archives just get a second life. The thing is they don't usually trend to this extent out of the blue. Can someone explain to me why this particular issue of Northlanders and not all the other ones that we reviewed over the years? It's still trending this month! What's happening?

7-Why Daredevil Is Not on Blu-Ray?
I've been asking this question since April 2015 and alas, Marvel and Netflix have no answers for me and the countless fans who asks themselves the same question every month. This question trends every month.

6-Comics
This is the homepage for everything comics-related at the Bin.

5-Seraph of the End: Vampire Reign Volume 9
Here is a review that seems to be very important for many people! If you are curious about this series, Leroy Douresseau has reviewed all nine volumes thus far.

5-Fan Films
Although not as active as it used to be, this section of ComicBookBin still has one of the best curated list of fan films anywhere.

4-RSS for Comics
I really hope that RSS does not die. It is one of the most useful distribution and sharing format that I know on the Internet. It's also an open-standard free of the control from Apple, Google, and Facebook. And it's a great way to promote web comics and online writing about comics!

3-Johnny Bullet Bonus #4
I drew this quick homage comic in remembrance of the passing of Muhamad Ali, the day after his death. I like this strip a lot and I am glad that others shared my interest. I also like that Johnny Bullet was perfectly poised to share the limelight with Ali during his prime!

2-Johnny Bullet #1
I'm glad that there is so much interest in the first Johnny Bullet strip. This week, I released strip #80! So I'm still going strong and adding to this great story which I did not know would be such a defining comic for me!

1-Top Ten Comics of the 1990s
This article has been one of the most popular article at ComicBookBin since it was released years ago. The 1990s were a special decade for comics and I argue more memorable than the 2000s. Can't wait to see how we view the 2010s in a few years.

© Copyright 2002-2020 by Toon Doctor Inc. - All rights Reserved. All other texts, images, characters and trademarks are copyright their respective owners. Use of material in this document (including reproduction, modification, distribution, electronic transmission or republication) without prior written permission is strictly prohibited.