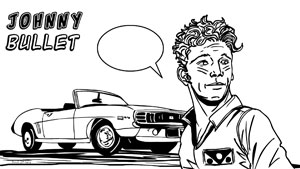 Toy Collecting
Action Station at Sota Toys
By Hervé St-Louis
October 28, 2006 - 21:16
Little did we know, when we last interviewed Jerry Macaluso for an article published on August 20, 2006, that Sota Toys' president was planning to stop his involvement with the company he helped founded with Chief Financial Officer John Schouweiler. Stopping all rumours, Sota Toys clearly explained why Macaluso was leaving the company, which started as a sculpting studio for other toy manufacturers in 1997 and ventured into projects of its own in 2000. Macaluso has left in order to direct his first feature film.

Replacing Macaluso as company Chief Executive officer is Guang Yang, a Chinese American with expertise in serving as liaison between the Chinese plant producing toys and their American promoters. Jackson Pornpitayalert, with an experience on the retail side of action figure collecting, is becoming Sota Toy's Vice President of Sales and Marketing.

But renewal at the top, is not all that's going on at Sota Toys. On October 10, 2006, the company unveiled a new action figure line based on the Street Fighter series. This series, called Street Fighter Beta, taking popular character and sculpting closer to an early Anime look. The new action figures, to be released in 2007, will be compatible with existing Street Fighter action figures released since 2004 by Sota Toys.

So far, it seems that Sota Toys continues to concentrate on what works best for the company, its license with Capcom, the owners and developers of the Street Fighter video games. However, the Now playing series of horror toys based on popular movie creatures continues to be released.

One could argue that The Now Playing series was really Macaluso's baby, as his background is a movie special effects and prop designers, often for similar cult films with characters like Now Playing. It is interesting to see if future Now Playing will continue to be produced after the departure Macaluso. As argued in a previous article, action figures such as the Now Playing series are of limited appeal to broader action figure collectors.

It seems that the second generation of Street Fighter series from Sota Toys, allows the company to grow by creating more products from its most popular line. Several manufacturers, like Hasbro, DC Direct and Toy Biz already do that releasing new versions of characters already produced to boost an aging action figure line. Sales of the first generation of Street Fighter action figures have continued to drop after each successive series. Sota Toys has even had to reduce the distribution of the toys, to reflect the growing lack of support from retailers.

Street Fighter Beta, allows Sota Toys to better maximize the investment it did when paying for the property's license. Such licenses are costly. The question is whether or not collectors who have already purchased popular Street Fighter action figures like Ken, Ryu and Akuma are willing to purchase duplicates of the characters.

Although producing multiples copies of popular characters is a sound decision to an extent, my guess, would for Sota Toys to release popular and older Street Fighter action figures in new markets, and retail outlets, instead of betting that existing collectors will want to purchase duplicate action figures of characters they already own. Of course, the Street Fighter Beta series, concentrating on the Anime look of a few character, could be the entry ticket Sota hopes will finally seduce old video game enthusiasts who have not supported the line extensively thus far.


© Copyright 2002-2019 by Toon Doctor Inc. - All rights Reserved. All other texts, images, characters and trademarks are copyright their respective owners. Use of material in this document (including reproduction, modification, distribution, electronic transmission or republication) without prior written permission is strictly prohibited.