Dark Horse Comics for September 2004
By The Editor
July 12, 2004 - 09:42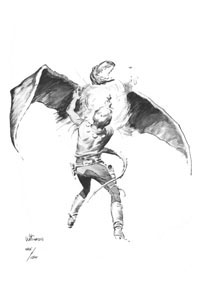 AL WILLIAMSON: HIDDEN LANDS TPB

Great for those interested in comics history or the classic era of pen-and-ink illustration!

THOMAS YEATES (W), MARK SCHULTZ (W), STEVE RINGGENBERG (W), and AL WILLIAMSON (A)

On sale September 27, SC, 224pg, b&w, 8 1/2" x 11", $22.95

Al Williamson stands in rarified air, among the titans of the development of comics as an art form. Drawing from the tradition of the heyday of book, advertising, and comic-strip illustration, Williamson brought a command of craft and dynamics rarely seen, before or since, to a field that had largely valued speed over skill. As part of an amazing stable of young artists at E.C. in the 1950s, Williamson helped change the industry forever, but much of his work of the era has remained hidden. Al Williamson: Hidden Lands at last uncovers these gems, most of which have never been reprinted. Covered in depth by writers Mark Schultz, Thomas Yeates, and Steve Ringgenberg and gathered from extensive, lively interviews with Williamson, Al Williamson: Hidden Lands is an essential volume for any fan of this giant of graphic fiction as well as for those interested in comics history.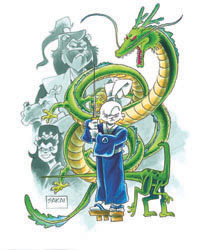 THE ART OF USAGI YOJIMBO: 20TH ANNIVERSARY EDITION HC

STAN SAKAI (W/A) and various pinup artists

On sale September 27, HC, 200pg, b&w w/three color signatures, 9" x 12", $39.95

In the tradition of celebrated collections The Art of Sin City and The Art of Hellboy, Dark Horse is proud to showcase the work of multi award-winning artist Stan Sakai in The Art of Usagi Yojimbo. Timed to coincide with the 20th anniversary of the creation of Sakai's signature character, Usagi Yojimbo, this stunning hardcover will be printed on high-quality paper stock and will feature scores of never-before-seen pieces, a long out-of-print 12-page primer illustrating how Stan creates each of his Usagi stories, 48 full-color pages of Stan's beautiful painted artwork, and more. Additionally, some of the biggest names in comics pay tribute to their favorite rabbit ronin in a fantastic gallery section, with pinups by Frank Miller, Sergio Aragonés, Jeff Smith, and Matt Wagner, among others! An overdue addition to the bookshelves of any avid Usagi fan or admirer of the comics medium, The Art of Usagi Yojimbo is destined to become a treasured piece in many collections.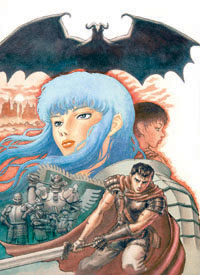 BERSERK VOLUME 5 TPB

KENTARO MIURA (W/A)

On sale September 13, SC, 240pg, b&w, 5" x 7", $13.95

He is Guts, the Black Swordsman, a warrior of legendary prowess-relentless, fearless, merciless. As cold and brutal as the iron of the massive sword he wields. Bent on revenge against the unholy forces that have branded him for sacrifice, but especially on Griffith, one of the demon lords of the Godhand. But Griffith was once a man, the leader of the Hawks, a renowned cadre of elite fighters with a young Guts as its fiercest champion. Though forged in a crucible of cruelty and violence, nothing could prepare Guts for a confrontation with Nosferatu Zodd, a superhuman beast who slaughters Guts' comrades as easily as a scythe cuts wheat. Even Guts and Griffith are no match for the abomination's power ... but something Griffith wears around his neck may well be!

o One of the most eagerly anticipated manga properties in recent years, Berserk was originally published in Japan and has been serialized in Young Animal Magazine since the early 1990s.

o The Berserk manga has been adapted into a best-selling anime series available
from Media Blasters!

o NOTE: Each volume of Berserk is shipped shrink-wrapped and carries a cover content advisory.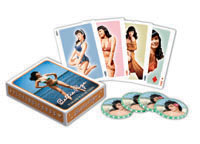 BETTIE PAGE

Bettie Page Poker Set

On sale September 13, 100 multicolored poker chips in different denominations, 2 decks of playing cards in latching, hinged wooden carrying case, $74.99

Bettie Page Playing Cards

On sale September 13, set of 52 plastic coated cards, plus two jokers, $4.99

If you play your cards right, you can sit opposite Bettie Page at the poker table!

Dark Horse Deluxe is proud to present this impressive set, which includes 100 poker chips, multicolored for different denominations, each graced with Bettie's smiling face and 2 decks of retro-style cards in a latching, hinged wooden carrying case with Bettie's signature burned onto the lid. A beautiful color photo of Bettie on the beach is laminated into the inside of the case's lid, so when it is opened for use our favorite pinup is the centerpiece of the high-stakes action. Case measures 8 1/2" x 7 7/8" x 2 1/4" closed.

The Dark Horse design team has come up with a deck of cards that will provide a winner every time! On the back of each card is a playful photo of Bettie on the sand. Other tantalizing images of Bettie decorate the face cards: silly, seductive, demure, and outrageous, you can't deny the appeal of everyone's favorite pinup girl. Pack includes 52 plastic-coated cards, plus two jokers.

Bettie is sure to bring luck to any hand!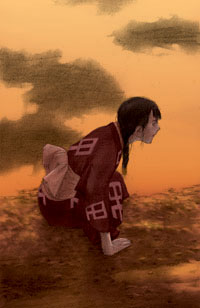 BLADE OF THE IMMORTAL #93: LAST BLOOD part 4 (of 5)

HIROAKI SAMURA (W/A)

On sale September 8, b&w, 32pg, $2.99

Stunned by conflicting emotions and indecision, Rin watches as the revenge-mad Iriya confronts Makie, the skilled angel of death. Iriya's seen what Makie can do, but with Anotsu finally within his sights, a bloody battle is unavoidable. Nearby, Magatsu and Manji cross swords with the remaining Shingyötö-ryü swordsmen. Magatsu, still recovering from his last terrible fight, tries to hold his ground against one of the Shingyötö-ryü clan's most honorable students, while Manji, eager to finally be reunited with Rin, hopes to send a few more opponents to the afterlife. As his latest dogfight gets messier, Hiroaki Samura continues to reinvent the bushidö grudge match by mixing elements of classic samurai tales and epic Western films with modern punk rock sensibilities.

o Winner of Japan's prestigious Media Arts Award and America's own Eisner Award.

o TWELVE volumes of this modern classic available in the Dark Horse backlist!

FOR MATURE READERS


CONAN #1 BACK FOR THIRD PRINTING

ALL-NEW CARY NORD COVER!

KURT BUSIEK (W) and CARY NORD (A)

Available Now! FC, 32pg, $2.99

The third printing of Conan #1 will return to stores June 2, sporting a brand new cover by artist Cary Nord. Nord's pencils along with Kurt Busiek's words and Dave Stewart's colors have garnered rave reviews for the series as well as an Eisner nomination for the special Conan #0 released last November.

All back orders on the series as well as future orders for #1 will be filled with the Cary Nord cover. This is a perfect opportunity for readers who haven't picked up the first issue to check out what all the buzz is about.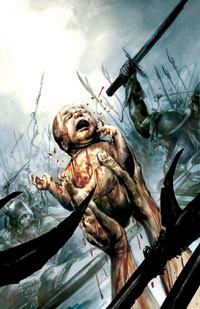 CONAN #8

"Born on the Battlefield" begins here!

KURT BUSIEK (W) and GREG RUTH (A)

On sale September 22, FC, 32pg, $2.99

The legend of Conan begins in the middle of a Cimmerian war-his incredible strength and skill, evidenced in his youth, was always credited to the bloody circumstances of his birth. This special fill-in issue brings Greg Ruth, acclaimed artist of Freaks of the Heartland, into the Conan fold. "Born on the Battlefield," by Busiek and Ruth, will be spread over the next two years of the Conan monthly, in six stand-alone chapters, leading up to the epic Battle at Venarium!

Next issue Cary Nord returns with the second major story arc, as Conan discovers the wonders and horrors of the civilized world-with covers by Leinil Francis Yu!

o Call it "Ultimate Conan." After almost 20 years oout of the spotlight, the iconic barbarian smashes his way back into comics and gets stripped down to his roots!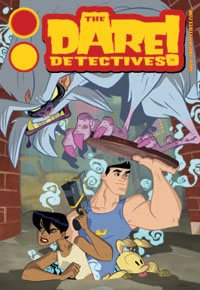 THE DARE DETECTIVES VOLUME 1: THE SNOWPEA PLOT TPB

Wherever there's danger, distress, and devilry, there's The Dare Detectives!

BEN CALDWELL (W/A)

On sale September 27, SC, 96pg, FC, 5 1/4" x 7 1/2", $5.95

The wild and wondrous vision of cartoonist extraordinaire Ben Caldwell (author of Action! Cartooning), The Dare Detectives throws Disney-esque illustration into the pop-culture blender to create a screwball smoothie of epic proportions. Reformed crook Maria Dare has assembled a team of misfits to crack the world's weirdest cases! They have brains ... they have guts ... but they don't have a clue! And in their first adventure ... The Dare Detectives are finished! Rent's due and their license is suspended, but Dare's going-out-of-business festivities are interrupted by Madame Bleu-whose abominable snowmen pets are on a chef-stealing, radio-robbing, snowpea-swiping crime wave! Dare races against the clock to hunt down Madame Bleu with the help of corrupt cops and Chinatown's old crime boss ... but can these bunglers really prevent the most audacious-and inexplicably convoluted-crime of the century?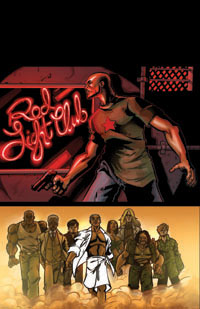 FIERCE #3 (of 4)

Fast-paced, movie-style action, with elements of superheroics.

JEREMY LOVE (W), ROBERT LOVE (P), and JEFF WASSON (I)

On sale September 3, FC, 32pg, $2.99

When the FBI recruited Jonathan Fierce, he was a gifted psychic. After a powerful crime syndicate frames him for the murders of his team of operatives, he becomes much more than he ever imagined…

This summer, you won't have to stand in line at your local multiplex for the excitement and intensity of an big-budget action thriller. All you've got to do is take a trip down to your comics shop. Fierce packs all the elements of a big-budget summer blockbuster into thirty-two pages! Don't miss the most intense issue of Fierce yet, when Fierce takes on the syndicate, the FBI, and the demons of his past!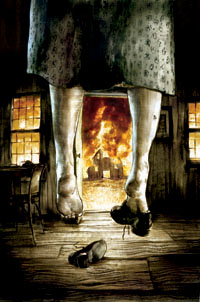 FREAKS OF THE HEARTLAND #5 (of 6)

STEVE NILES (W) and GREG RUTH (A)

On sale September 15, FC, 32pg, $2.99

As the wheat fields surrounding Gristlewood Valley become consumed by fire, two young brothers-Trevor Owen and his "freak" brother, Will-plan their escape from the small and potentially deadly town. After the violent, not-quite-accidental death of their father, the brothers know they have very little time to find their way to the relative safety and freedom of the outside world. But before they turn their backs on Gristlewood for good, Trevor and Will have one more responsibility to face-finding and freeing the other misunderstood "freak" children before they are murdered at the hands of their own parents. The fire rages, the fields burn, but for the first time in his short, tortured life, Will Owen feels a glimmer of hope in his heart.

FOR MATURE READERS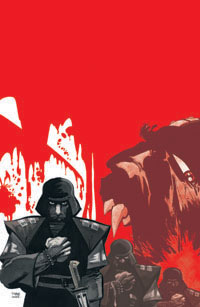 GRENDEL: DEVIL'S REIGN #5 (of 7)

MATT WAGNER (W)

TIM SALE (A/Cover)

On sale September 15, FC, 32pg, $3.50

After a brash but decisive attack on the kidnappers' compound, Sherri Caniff has been rescued! However, the political fallout includes a declaration of war from Africa … though an internal UNOW investigation reveals that Japan has financed the kidnappers! As Grendel-Khan Orion Assante, emperor of the Western world, directs his soldiers to the East, nations start taking sides. The big question is: who has nukes now? Meanwhile, Pellon Cross begins distributing a vampiric "communion" that allows feeders to bleed, thus foiling human barriers.

o Re-presenting the original Grendel #38, newly remastered by award-winning colorist Matt Hollingsworth.

FOR MATURE READERS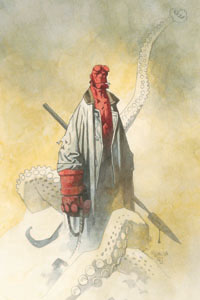 HELLBOY: ODDER JOBS ILLUSTRATED NOVEL

FRANK DARABONT (W), CHARLES DE LINT (W), KIM NEWMAN (W), GUILLERMO DEL TORO (W), MIKE MIGNOLA (A/Cover), and many more!

On sale September 6, SC, 216pg, b&w, 6" x 9", $14.95

Mike Mignola's award-winning series Hellboy has earned fans all over the world, among them some of the most respected horror, fantasy, and mystery novelists in the field, and some of Hollywood's most talented writers and directors. Now a who's who list of these writers are drawn together to tell their own tales of Hellboy, to play with the characters and worlds Mignola has created. As part of Dark Horse's celebration of Hellboy in 2004, Christopher Golden (author of the Hellboy novels The Lost Army and The Bones of Giants) has brought together a stellar array of talents including filmmakers Frank Darabont, Mick Garris, and Hellboy movie director Guillermo del Toro, and novelists Charles de Lint, Graham Joyce, and Sharyn McCrumb, as well as many others.

o Lavishly illustrated by creator Mike Mignola!

o Filmmakers Frank Darabont (The Shawshank Redemption), Mick Garris (The Stand), Guillermo del Toro (Hellboy), and novelists Charles de Lint, Graham Joyce, Kim Newman, Sharyn McCrumb and many others tell their own tales of Hellboy.

o This Spring, the Hellboy movie opened to rave reviews and spectacular box office success, making it an instantly recognizable and incredibly popular property.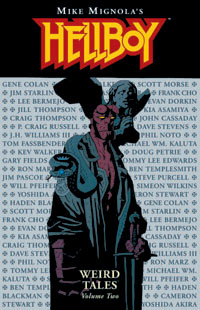 HELLBOY: WEIRD TALES VOLUME TWO TPB

JOHN CASSADAY (W/A), P. CRAIG RUSSELL (A), J. H. WILLIAMS (A), SCOTT MORSE (W/A), EVAN DORKIN (W/A), JILL THOMPSON (W/A), GENE COLAN (A), JIM STARLIN (A), KIA ASAMIYA (W/A), CRAIG THOMPSON (W/A), MIKE MIGNOLA (Cover) and even more

On sale September 27, SC, 144pg, FC, 0 x 0, $17.95

The second volume in the celebrated anthology series features more big names, and sixteen more pages than Volume One, including John Cassaday's complete Lobster Johnson serial.

Mike Mignola's character has never been more popular, especially in the wake of the long-awaited feature film. The award-winning Hellboy series has been lauded as much by other artists as it has by award ceremonies and fans. Over the years, many of the best artists in the industry have offered to contribute, to get a chance to play with the characters and worlds Mignola has created. In celebration of the 2004 Hellboy motion picture, Dark Horse presents this lavish collection, complete with a behind-the-scenes look at the sketchbooks of the various artists. Collecting issues #5-#8 of tgeh Weird Tales series.

o Some of the best writers and artists in comics team up to present stories of satanic theaters, a vacation in hell, and romance in the back of a Cadillac-old-fashioned pulp fun featuring one of the greatest heroes of modern comics.




INTRON DEPOT 4: BULLETS TPB

MASAMUNE SHIROW (W/A)

On sale July 14, SC, 128, FC, 9 1/2" x 13", $49.95

The next volume in Masamune Shirow's best-selling art book series is orbiting cyberspace and preparing to touch down onto bookstore shelves in late summer. This volume concentrates primarily on Shirow's character, robot, and vehicle designs for interactive games.

Shirow is world famous for being equally skilled and creative in the realms of computer-generated graphics and traditional drawing and painting. It is logical then that his unique and imaginative studies are among the most interesting being done in the high-tech game field.

With commentary in both English and Japanese, this new collection provides a fascinating insight into the creative process of one of Japan's premiere talents.

o Dark Horse has sold over 30,000 copies of the first two volumes of Intron Depot.

o Dark Horse has a complete line of merchandise based on Intron Depot including
lunch boxes, statues, T-shirts, a CD-ROM, and more!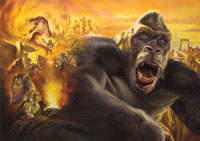 KONG: KING OF SKULL ISLAND HC

JOE DEVITO (Created and illustrated) and BRAD STRICKLAND (W)

On sale September 27, HC, 96pg, FC, 8 1/2" x 11", $24.95

In 1933, American showman Carl Denham returned from a mysterious, hidden island with a priceless treasure. A treasure not gold or jewels, but the island's barbaric god, a monstrous anthropoid called "Kong." The savage giant escaped and wreaked havoc among the man-made canyons of Manhattan, but within hours of the giant ape's death plummet from the peak of the Empire State Building, his body-and Carl Denham-disappeared. Twenty-five years later, the son of Carl Denham makes a shocking discovery that leads him back to the site of his father's greatest adventure and to the answers that will unlock the century's greatest mystery and history's greatest miracle.

Authorized by the Cooper Estate and based on the original novel that inspired the all-time classic film, Kong: King of Skull Island is a lavishly illustrated, all-new novel that acts as both prequel and sequel to the classic fantasy tale, King Kong. Acclaimed fantasy artist Joe DeVito and top fantasy and science-fiction writer Brad Strickland join forces via innovative layout and design to make for an interactive visual-narrative storytelling experience unlike any other, remaining true to the classic Kong legend while illuminating new discoveries and additional layers of characterization that will deepen the resonance of the original story for readers young and old. Introduction by film special-effects master Ray Harryhausen (Mighty Joe Young, The Seventh Voyage of Sinbad).

o Created and illustrated by acclaimed fantasy artist Joe DeVito!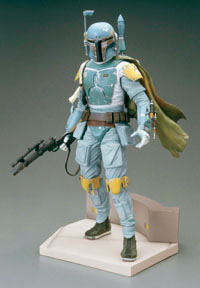 KOTOBUKIYA BOBA FETT PRE-PAINTED SOFT VINYL MODEL KIT

New! Just released in Japan!

On sale September 15, 13", packaged in a color window box, $99.99

A new release in our import program of the award-winning Kotobukiya large vinyl Star Wars figures, this one is likely to prove to be one of the most popular releases of all. Certainly Boba Fett is the favorite of Star Wars fans everywhere, and the fantastic craftsmanship and attention to detail that are lavished on this figure make it one of the coolest collectibles available.

Exuding menace, Boba is one bad dude!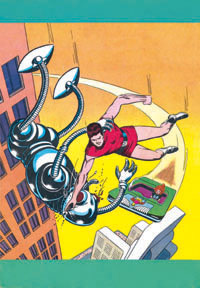 MAGNUS, ROBOT FIGHTER HC

Dark Horse delivers another fantastic collection of rare classics from a comics legend!

RUSS MANNING (W/A), KERMIT SCHAEFER (W), and DON FRIEWALD (W)

On sale September 27, HC, 200pg, FC, 6 1/4" x 10 1/4", $49.95

In the year 4000, with the human race threatened by robots that would enslave mankind, one man alone has the power to fight back-Magnus, Robot Fighter!

Russ Manning, famous for his spectacular work on the Tarzan newspaper strips of the late sixties, brought fans his "Tarzan of the Future" in Magnus, Robot Fighter. While the original comics series lasted only twenty-one issues, the Manning's creation has survived generations, influencing countless science fiction artists and writers to this day. Fans of Alex Raymond, Mac Raboy, or Wally Wood should not miss this beautifully bound hardcover, the latest addition to Dark Horse's line of science fiction comics classics.

o The classic story of man versus technology was revived to great success in the 1990's. This volume reprints the original series with unparalleled art by comics legend Russ Manning.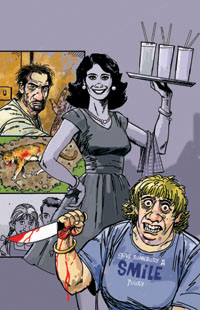 MILMAN MURDERS #3 (of 4)

Suburbia never looked so bleak …

JOE CASEY (W) and STEVE PARKHOUSE (A)

On sale September 1, FC, 32pg, $2.99

All right, suburbia always looks bleak, but when mom dips into dad's meth stash, and he goes nuts and puts her head through the bathroom mirror, things are off to a rough start for the third issue of this hilariously dark sitcom-and things get a lot more grisly from there. Our typical American housewife has finally had just a little too much of her hideous, deranged family, and she takes a simple word of advice from TV's perfect 1950s mom-"Discipline."

Face the ugly facts about the American Dream with Joe Casey (Superman, X-Men, Avengers: Earth's Mightiest Heroes, Wildcats Version 3.0) and Steve Parkhouse (The Bojeffries Saga, The Invisibles).

FOR MATURE READERS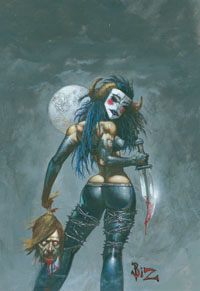 THE NAIL #4 (of 4)

This is it-the winners-take-all showdown between predators and prey!

ROB ZOMBIE (W), STEVE NILES (W), and NAT JONES (A)

On sale September 22, FC, 32pg, $2.99

Rex "The Nail" Hauser and his family have been terrorized and hunted by a bloodthirsty motorcycle gang as they tour the professional wrestling circuit across the Badlands of North Dakota. With one member of their group already murdered by the maniacs, the survivors cornered in a remote location, and their assailants growing more relentless with each attack, one thing becomes brutally clear: if the demons on wheels get their way, there's no hope of making it out alive. In this match, there's no fake blood, no staged body-slams. This is as real as it gets-one bad-ass fighting man who will do anything it takes to protect his family versus blood-curdling, unspeakable evil. Don't miss the ballsy, terrifying conclusion to this summer's must-read horror comic!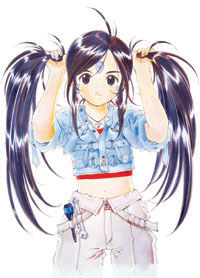 OH MY GODDESS! #112: SORA UNCHAINED part 8 (of 8)

Join us for this fun finale to Fujishima's "Sora Unchained" storyline!

KOSUKE FUJISHIMA (W/A)

On sale September 1, b&w, 48pg, $3.99

This 48-page issue is packed with magical hi-jinks, gravity-defying stunts, and Kosuke Fujishima's delightful romantic humor. The furious go-kart race between Sora Hasegawa and Keiichi "K1" Morisato comes to its conclusion, as they race to decide the fate of the Nekomi Tech Motor Club's director position! Sora's determination, newfound racing skills, and secret shortcuts will put Keiichi's technical know-how and experience to the test. Sora's definitely changed as she's gained the confidence to race … but will the Motor Club survive the "Hasegawa Curse" if she becomes director?

o Sixteen volumes of all-ages fantasy and romantic humor available in the Dark Horse backlist!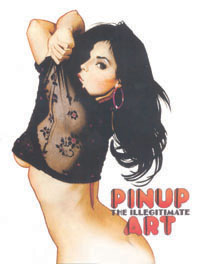 PINUP: THE ILLEGITIMATE ART TPB

JIM SILKE (W/A)

On sale September 27, SC, 96pg, FC, 9" x 12", $19.95

Finally, a second book on glamour art by the author/artist of Bettie Page: Queen of Hearts. Now, for the first time, Jim Silke shares his hilarious first-person account of life as a 'pinup' artst-from the comic-strip vixens that influenced his youth, to his real-life adventures photographing Hollywood's most beautiful starlets and models, to his slaving over magical images of Bettie Page, Brigitte Bardot, and a host of other beauties. Lavishly illustrated with over 100 new images by Silke and classic 'girl artists' George Petty, Coby Whitmore, Enoch Bolles, Al Parker, Rolf Armstrong, and others. Pinup: The Illegitimate Art is a delightful, sharp, insightful look at the 'bedtime babies,' 'devil women,' and 'bare-naked ladies' that grace the walls-and hearts-of red-blooded lady lovers the world over.

Silke is one of the few artists who could write this story. From his Grammy Award-winning stint as a music industry art director to his years as a magazine publisher, glamour photographer, screenwriter, and comic book artist, Silke's sensual artistic vision has made a distinct and lasting impact on contemporary culture.

FOR MATURE READERS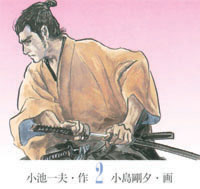 SAMURAI EXECUTIONER VOLUME 2 TPB

KAZUO KOIKE (W) and GOSEKI KOJIMA (A)

On sale September 13, SC, 304pg, b&w, 4" x 6", $9.95

It's the same classic style you came to expect from Koike and Kojima. The same tale of an honorable samurai and a similar great sword in the hand of a similarly fantastic swordsman, but make no mistake, Samurai Executioner is very different from its brother, Lone Wolf & Cub, sometimes frighteningly so.

In a prison world, there are few good stories, and this is the world of Kubikiri Asa, the beheader and master samurai under the Shogun. It's a world full of vengeance, greed, and violence. A world of depravity and sin. One man can set things straight if he can keep his wits. This is a story of extreme proportions, of sword study thick in tradition and with grim purpose, of blood rivers, agonizing screams, bondage, torture, and the evil prevalent in human failure. Drafted by the confirmed masters of the international medium of manga, Samurai Executioner is a shocking combination of darkness and fire, fine lines, and a fine man in the face of human decline.

FOR MATURE READERS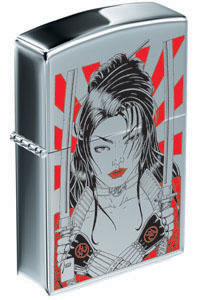 SHI

SHI Zippo® Lighter

On sale July 21, chrome zippo® lighter, with black and red image, $29.99

SHI Coaster Set

On sale August 18, four 1/8" thick coasters, packed in a printed box, $12.99

Trained in the ways of the great warrior monks of medieval Kyoto-Ana Ishikawa's sole mission in life is to seek out her family's murderer and avenge their honor. Ana's life becomes one of constant inner conflict between her programmed mission of revenge and the Christian leanings she secretly harbors.

With her conflicted soul weakened, this vengeful obsession consumes Ana's very being, as she transforms herself to Shi-the living embodiment of Death.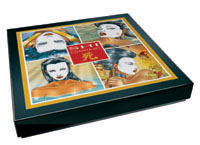 Response to the comeback of Shi has been overwhelming, so we've decided to create more products featuring this beautiful warrior. Now, Billy Tucci's compelling character can be found on a Zippo® Lighter and coaster set.

The coaster set includes four full-color, square coasters depicting Shi in the four seasons. Surrounded by flowers and autumn leaves, Shi has never looked more attractive. These 1/8" thick, high-quality coasters come packed in a beautifully printed box.

Shi deserves to be seen!


STAR WARS: EMPIRE #25

"Idiot's Array" (part 2 of 2)

RON MARZ (W), JEFF JOHNSON (A), and DAVID MICHAEL BECK (Cover)

On sale September 1, FC, 32pg, $2.99

The Beast and the Beauty join forces when Chewbacca teams up with smuggler Sheel Odala to free Han Solo from the clutches of a crime lord in the employ of the Empire. Odala is handy with a blaster, and an old friend. But there are some trust issues. See, she's the one who betrayed Han to the Empire in the first place… Oh, and did we mention that Vader was on his way?

Star Wars action as you like it; leavened with humor, peril, and passion!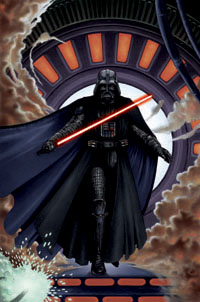 STAR WARS: EMPIRE VOLUME 3-THE IMPERIAL PERSPECTIVE TPB

WELLES HARTLEY (W), PAUL ALDEN (W), JEREMY BARLOW (W), RON MARZ (W), DAVIDÉ FABBRI (A), PATRICK BLAINE (A), and more!

On sale September 27, SC, 144pg, FC, 7" x 10", $17.95

A loyal Stormtrooper, thwarted by the very bureaucracy which he serves, struggles to track down a Rebel saboteur on board the Death Star in the days and hours before the fateful Rebel attack. Darth Vader, the sole survivor of the explosion of the Death Star, crash lands on a primitive world where savagery is the key to survival. A young Imperial lieutenant learns all service comes at a price when his small company of Stormtroopers is attacked by thousands of angry aliens. Assassins from a planet destroyed by the Empire close on their target-the Dark Lord, Darth Vader.

Collecting issues #13-#14 and #16-#19 of the Empire series. All told from the point of view of the major villains of the Star Wars galaxy-the Imperials. But, as these stories show, even the "bad guys" are no strangers to loyalty, honor, and sacrifice!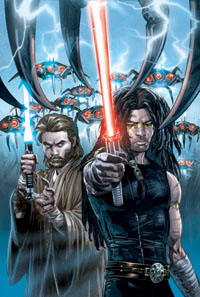 STAR WARS: REPUBLIC #69

"The Dreadnaughts Of Rendili" (1 of 3)

JOHN OSTRANDER (W), JAN DUURSEMA (P), DAN PARSONS (I), JAN DUURSEMA and BRAD ANDERSON (Cover)

On sale September 29, FC, 32pg, $2.99

While Jedi Masters Saesee Tiin and Plo Koon fight to prevent a fleet of ships from falling into Separatist hands, Obi-Wan Kenobi discovers that the Separatists are not without dissension in their own ranks! On board the drifting hulk of a massive research ship, Obi-Wan finds himself taking sides with dark Jedi Quinlan Vos-who is wanted for the murder of a Senator-against another foe.

Vos was once his friend, and the other enemy is one with whom Obi-Wan has crossed swords before. But has Obi-Wan been too hasty in deciding the lesser of two evils? Has Quin become the heartless killer everyone believes him to be? And will he help Obi-Wan escape the apparent death trap into which they fall, or abandon him to save his own skin?

As we enter the home stretch leading to next year's Episode III release, the events in Republic are coming to a collision point that is not to be missed!





STAR WARS TALES #21

ROB WILLIAMS (W), SHANE MCCARTHY (W), NATHAN P. BUTLER (W), BRANDON BADEAUX (P), JAMES RAIZ (P), LEE BERMEJO (COVER)

On sale September 8, FC, 64pg, (Bermejo and photo cover), $5.99

This is it-the beginning of a new direction for Star Wars Tales! Stepping away from the shorter, sillier Star Wars stories, with this issue Tales goes full-tilt toward a more exciting and sophisticated storytelling style. Cla$$war writer Rob Williams and Man of Steel artist Brandon Badeaux team up to bring you the story of Darca Nyl-a Jedi wandering the galaxy's Outer Rim hunting for revenge and hiding a deadly secret. Writer Shane McCarthy presents a rag-tag group of convicts and cutthroats flying for the Empire's glory in the feared TIE Fighter squadron called "Black Eight." And Kyle Katarn, star of the hit video game Jedi Outcast, goes toe-to-toe with the vile Yuuzhan Vong, in an action-packed tale by Nathan P. Butler and James Raiz (Tokyo Storm Warning).

o Cover by Lee Bermejo (Batman/Deathblow; Batman: Gotham Knights)

o New-reader friendly-each story is self-contained and easily accessible.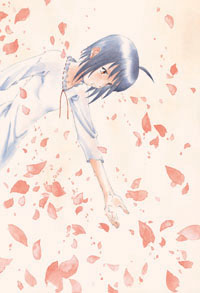 SUPER MANGA BLAST! #45

KENICHI SONODA (W/A), MOHIRO KITOH (W/A), MAKOTO KOBAYASHI (W/A), YUZO TAKADA (W/A), and HIROYUKI UTATANE (W) & YO MORIMOTO (A)

On sale September 29, b&w, 128pg, $5.99

Beginning a new story arc after last issues stunning Shadow Star showdown, the government's investigative team is puzzled, and dark Shadow Dragon plots begin to brew again. Two episodes of the Eisner-nominated What's Michael? series appear this month, exploring the humor in cat fights and karma! The slice-of-life Club 9 drama returns to romance, as Haruo finds herself out on a date with the owner of the Seibu Lions baseball team … and a suspiciously familiar cat (Michael?) makes a hilarious guest appearance. Hoichi "Gun" Kano continues to fight Earth's alien menace in hand-to-hand combat in Cannon God Exaxxion. Ambushed in space aboard a seemingly doomed lunar shuttle, Seraphic Feather's M-Zak, the "Scarlet Angel," faces one of her super-powered attackers.

FOR MATURE READERS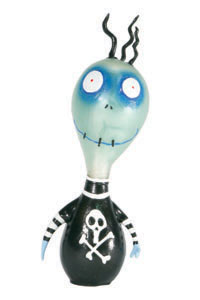 TIM BURTON TOXIC BOY SQUISHY TOY

On sale September 15, soft, rubbery body with a squishy, gel-filled head, stands 7 & 1/4" tall, $9.99

Visionary director Tim Burton is also the author/illustrator of The Melancholy Death of Oyster Boy and Other Stories. Now Dark Horse Comics brings you merchandise based on characters from this work, with the full participation and approval of Tim Burton himself!




TRIGUN ANIME MANGA VOLUME 1

YASUHIRO NIGHTOW (W/A)

On sale September 27, SC, 160pg, FC, 5" x 7", $14.95

Adding to the Trigun collection of fantastic television animation and dynamic manga, a new hybrid of the two mediums arrives to keep the experience alive. Composed entirely of frames taken from the popular Japanese animated television series, the Trigun anime manga books are enhanced with colorful sound effects and dialogue taken directly from the teleplay.

o The Trigun anime is a cornerstone of Cartoon Network's Adult Swim programming.

o Dark Horse sold over 100,000 copies of the first two volumes of Trigun, making it one of America's most popular manga series!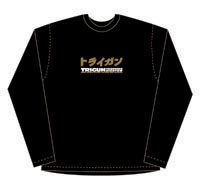 T-SHIRTS

On sale August 18

Finally! T-shirts from our #1 selling book: Trigun! People have been asking for these images on a number of products, but the most-requested item was a T-shirt. You get what you ask for at Dark Horse Comics … Not only do we have 4 designs on 5 different styles of shirt from the Trigun series, but we're also offering 2 designs from the popular Hellsing series.

Trigun: Cross/Black/Long Sleeve Tee/Adult

M-XXL $24.99

Hellsing: Bats/Black/Long Sleeve Tee/Adult

M-XXL $24.99.