Udon's Darkstalkers
By The Editor
November 25, 2004 - 09:15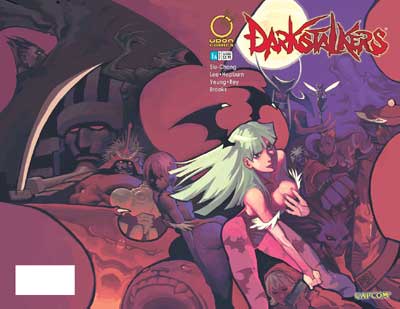 Hot on the heels of STREET FIGHTER, UDON is proud to unveil the expansion of its line of comics with CAPCOM's legendary action-horror franchise, DARKSTALKERS! With its classic cast of horror-themed characters, Darkstalkers has had a dedicated fan base for years, spawning anime OAVs, manga and countless other successful licensed products. Most recently, the cast of Darkstalkers has been prominently featured in Capcom's latest PLAYSTATION 2 (and upcoming X-BOX) fighting game, CAPCOM FIGHTING EVOLUTION that ships this month.



Geared towards cross-promoting the franchise and getting new customers into comic stores, the Darkstalkers ongoing comic series features the same UDON creative team responsible for the in-game endings, packaging art, and promotional artwork that will be seen across the country, not only on videogame screens, but in videogame store windows and gaming print ads as well. Furthermore, all of the print ads for Capcom Fighting Evolution (that will be seen in such widely circulated publications as PSM and GamePro) will prominently feature a section promoting the Darkstalkers and Street Fighter comic lines, including a link to UDON's site (www.capcomcomics.com) that features contact information for Diamond's Comic Shop Locater Service. This link will also soon be promoted on Capcom USA's site (www.capcom.com). UDON hopes to do its part in drawing new fans to comic stores and encourages retailers to keep Darkstalkers (and also Street Fighter) in stock to take advantage of the extra visibility the series will have outside of the comic industry, as well as the large anime fan base that Darkstalkers has consistently appealed to.



Look below for the solicitation for Darkstalkers #1 and preview images from the first issue.



In Darkstalkers, the fate of the world seems to have taken a bleak and ominous turn. Slowly, but steadily, increasing numbers of supernatural, inhuman creatures have inexplicably begun to walk the Earth. Coming in numerous shapes and sizes--as vampires and werewolves and as zombies and ghosts--these beings that have brought fear to the night have come to be known by one name: The Darkstalkers. Some Darkstalkers prey on humans, while others try to live in peace with them, while others are too busy fighting amongst themselves to even care what humans do.



In this first issue of the new ongoing monthly series, the blood-curdling tales of Morrigan, Demitri, Felicia and company begin with the sighting of a star--a sign, some say, of the world's impending doom. But are the Darkstalkers there to bring about that terrible end, or thwart it? The answer starts here in the first action-packed, blood-drenched issue! PLUS! Fan-Favorite artist JOE MADURIERA provides an exclusive jaw-dropping Power Foil cover featuring everyone's favorite sexy succubus, Morrigan! While acclaimed artist MARK (Amazing Fantasy, Cable/Deadpool) BROOKS provides a variant cover and backup story!