Next Brings Average Nicolas Cage
By Leroy Douresseaux
December 12, 2007 - 10:05
Writer(s): Gary Goldman, Jonathan Hensleigh, Paul Bernbaum
Starring: Nicolas Cage, Julianne Moore, Jessica Biel, Thomas Kretschmann, Tory Kittles, Peter Falk
Directed by: Lee Tamahori
Produced by: Nicolas Cage, Norm Golightly, Todd Garner, Arne L. Schmidt, Graham King
Running Time: 1 hour, 36 minutes
Rating: PG13
Distributors: Paramount Pictures
Next (2007)
Starring: Nicolas Cage, Julianne Moore, Jessica Biel, Thomas Kretschmann, Tory Kittles, and Peter Falk
DIRECTOR: Lee Tamahori
WRITERS: Gary Goldman, Jonathan Hensleigh, and Paul Bernbaum; from a screen story by Gary Goldman (based upon the short story "The Golden Man" by Philip K. Dick)
PRODUCERS: Nicolas Cage, Norm Golightly, Todd Garner, Arne L. Schmidt, and Graham King
GENRES: Sci-Fi, Action, Thriller
RATING: MPAA – PG-13 for intense sequences of violent action and some language
DISTRIBUTOR: Paramount Pictures
Starring Oscar-winner Nicolas Cage (Leaving Las Vegas), Oscar-nominee Julianne Moore (Far From Heaven), and not-hard-on-the-eyes Jessica Biel (The Illusionist), Next is a sci-fi/action flick based upon the 1954 story, "The Golden Man" by Philip K. Dick, the visionary science fiction whose novels and stories have been adapted into the films Blade Runner, Minority Report, and Paycheck.
The film focuses on Cris Johnson (Nicolas Cage), a Las Vegas magician with a secret gift that is both a blessing and a curse to him. Cris has the uncanny ability to know what will be the next thing that happens to him because he can see two minutes into the future. Performing under the stage name, Frank Cadillac, Cris uses his extrasensory talent to make a living off cheap stage tricks and off his gambling winnings at the blackjack table. His latest project is to find and meet, Liz (Jessica Biel), a young woman who seems to have a strange effect on his powers.
Other eyes, however, have been taking notice of Cris' talent and dexterity with the portal of time. Callie Ferris (Julianne Moore), an FBI counter-terror agent is eager to tap Cris' brain to help thwart a terrorist group's planned attack on Los Angeles with a nuclear time bomb. Using all her wiles, Callie, with the help of a fellow agent, Cavanaugh (Tory Kittles), pursues Cris trying to convince him to help her. When the terrorists, who are also aware of his powers, kidnap Liz, Cris may be forced to put his reluctance aside to save Liz and stop nuclear destruction in California.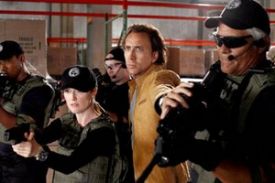 Directed by Lee Tamahori (Once Were Warriors, Die Another Day), Next is an absurd popcorn flick, but easy to watch and enjoy. Of course, it wasn't really worth a trip to the theatre, as it's more like a big-budget, prestige "original movie" from the Sci-Fi Channel. Still, it's occasionally clever, and Tamahori is actually quite good at making action-filled set pieces that somehow manage to catch the attention of an unwary action movie junkie.
Nicolas Cage isn't very good here, but neither is he very bad. He's only cheesy bad, as is the rest of the cast. In fact, it's a good thing that Jessica Biel is easy on the eyes, because her acting talent sure ain't the thing that is getting her roles. Nicolas Cage is a movie star and there's something about him on the big screen that is attractive. Put him and Biel together, and that's not a bad thing, even when it's not really that good a thing – as in Next.
B
Related Articles:
Boruto: Naruto Next Generations: Volume 7 manga review
Boruto: Naruto Next Generations: Volume 6 manga review
VIZ Media Offers "Versus Mode" for "The World Next Door"
Boruto: Naruto Next Generations: Volume 5 manga review
VIZ Media Announces "The World Next Door" Video Game
Boruto: Naruto Next Generations Volume 4 manga review
VIZ Media Releases "Bleach Set 3" Blu-ray Next Week
Boruto: Naruto Next Generations: Volume 2 manga review
Boruto: Naruto Next Generations Volume 1 manga review
VIZ Media Gains "Boruto: Naruto Next Generations"