The National Comic Book, Art, & Sci-Fi Show
By The Editor
November 3, 2004 - 14:58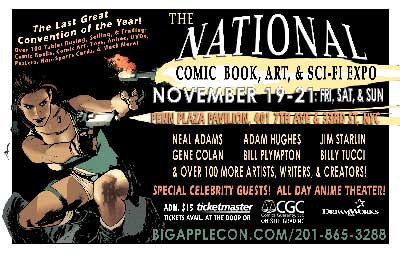 The National Comic Book, Art, and Sci-Fi Expo, the East Coast's Largest Comic Convention, returns to NYC this Nov 19-20-21: Fri-Sat-Sun with Superheroes, Superstars, Super Artists, and Lots and Lots of Comic Books…Making for a Super Great Time!

(New York City, Nov, 2004) –The National Comic Book, Art, & Toy Show, the East Coast's Largest Popular Arts convention, returns to New York City, the weekend before Thanksgiving, with a cornucopia of Guests and Events! On November 19-20-21: Fri-Sat-Sun, over 100 Comic Creators, Celebrity Guests, 300 Tables of Comic/Collectible/Sci-Fi Merchandise, Films, Anime, Gaming, Giveaways come together for the Big Apple's biggest show yet!

The National pays tribute to Star Wars Ep. III: Revenge of the Sith, with a special celebrity guest lineup featuring Jake Lloyd (young Anakin Skywalker), David Prowse (Darth Vader), Peter Mayhew (Chewbacca), and Daniel Logan (young Boba Fett). Hungry for more? Well, if Vampires are something you can really sink your teeth into, meet Buffy the Vampire Slayer's Robia La Morte (Jennie Calendar) and Angel's Mark Lutz (The Groosalug). The National has every sort of of Angel, even the leggy variety. Meet Charlie's Angel Tanya Roberts, returning 2005 cast member Midge of That 70's Show. Or Thank God for the Disco, with Saturday Night Fever's Karen Lynn Gorney. If you're too shy to hit the dance floor, then Hit the Books and Swap formula's with Nickelodeon's Jimmy Neutron: Boy Genius…voice actress Debi Derryberry. Join these, and many more guests to be announced!

The National also offers the year's greatest array of Comic Book Artists. Comic Legends Neal Adams (Batman, X-Men), Gene Colan (Iron Man, Blade), Jim Starlin (Capt. Marvel), Basil Gogos (Famous Monsters of Filmland), John Romita Sr. (Spiderman), Howard Chaykin (American Flagg), Bill Sienkiewicz (Electra Assassin), Kyle Baker (New Yorker illustrator, King David), Adam Hughes (Wonder Woman), Michael Kaluta (The Shadow), Mike Grell (Green Arrow), Joe Lindsner (Dawn), Billy Tucci (Shi), Dick Ayers (Sgt. Fury), Klaus Janson (Daredevil), and 100 More Incredible Creators will all be in Attendance: Sketching, Signing, and Meeting Fans. All Artists at the show will be contributing to a fantastic Sunday art auction in support of ACTOR, a charity fund designed to aid retired comic book creators.

The National presents a diverse array of panels, workshops, and programs of every interest including: How to Write Comic Books with Clockmaker author Jim Krueger, How to Draw Super-Heroes with Rich Buckler Sr., Superman on the Couch with fr. Spidey editor Danny Fingeroth, and dozens of interviews with today's hottest artists and illustrators. On Saturday, Saturday Night Live animator Bill Plympton, will host a viewing of his new animated skit Guard Dog and other Plymptoons. As well, there will be a preview of the highly acclaimed comic book documentary film, Sex, Lies, and Superheroes. The National also highlights All-Day Yu-Gi-Oh Sneak Preview Gaming with Upper Deck, All-Day Anime Theater, Quick-Draw Contests, Giveaways, a Heroic Costume Contest, and much more!

As a Special Event, on Sunday, The National, with the help of MoCCA, brings together one of the Greatest Comic Book Interviews of All Time, a must see for any Dark Knight fan, Artistic Giant, Neal Adams will be interviewed by Sin City author Frank Miller!

Asked to comment about the show, promoter Michael Carbonaro exploded, "People are going to be talking about this show for years to come! It's going to be the greatest! And there are lots surprises we haven't even announced!"

A NYC establishment, The National Comic Book, Art and Sci-Fi Expo has over the last 7 years grown into one of the country's largest comic book shows with an annual attendance of 12,000 people. The National is hosted by Big Apple Conventions, a group committed to creating awareness and appreciation of comics and related pop art forms through Conventions and events.

The National Comic Book, Art, and Sci-Fi Expo is located at the Penn Plaza Pavilion, between 7th Ave. and 33rd St., across from Madison Square Garden and Penn Station in New York City. Admission price is $15.00 per day.