Constantine
By Hervé St.Louis
February 28, 2005 - 16:30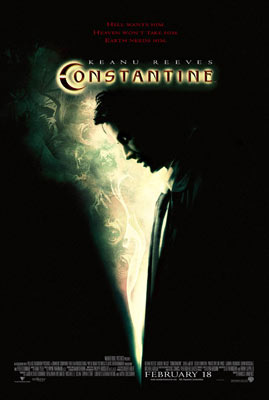 CONSTANTINE



RATED R

WARNER BROS.

In association with VILLAGE ROADSHOW PICTURES

A Donners' Company/Batfilm Productions/Weed Road Pictures/3 Arts Entertainment Production

DIRECTOR: Francis Lawrence

WRITERS: Kevin Brodbin and Frank Cappello; story by Kevin Brodbin (based upon characters from the DC Comics/Vertigo

Hellblazer

graphic novels)

PRODUCERS: Laren Shuler Donner, Benjamin Melniker, Michael Uslan, Erwin Stoff, Lorenzo di Bonaventura and Akiva Goldsman.



Starring: Keanu Reeves, Rachel Weisz, Shia LeBeouf, Tilda Swinton, Pruitt Taylor Vince, Djimon Hounsou, Gavin Rossdale, and Peter Stormare



Opening date: Friday, February 18, 2005

Running time: 121 minutes





From the press packet:

JOHN CONSTANTINE has been to hell and back.

Born with a gift he didn't want, the ability to clearly recognize the half-breed angels and demons that walk the earth in human skin, CONSTANTINE (Keanu Reeves) was driven to take his own life to escape the tormenting clarity of his vision. But he failed. Resuscitated against his will, he found himself cast back into the land of the living. Now, marked as an attempted suicide with a temporary lease on life, he patrols the earthly border between heaven and hell, hoping in vain to earn his way to salvation by sending the devil's foot soldiers back to the depths.

But Constantine is no saint. Disillusioned by the world around him and at odds with the one beyond, he's a hard-drinking, hard-living bitter hero who scorns the very idea of heroism. Constantine will fight to save your soul but he doesn't want your admiration or your thanks – and certainly not your sympathy.

All he wants is a reprieve.

When a desperate but skeptical police detective, ANGELA DODSON (Rachel Weisz), enlists his help in solving the mysterious death of her beloved twin sister (Ms. Weisz), their investigation takes them through the world of demons and angels that exists just beneath the landscape of contemporary Los Angeles. Caught in a catastrophic series of otherworldly events, the two become inextricably involved and seek to find their own peace at whatever cost.



Visit the film site at www.constantinemovie.net. ©2005 Warner Bros. Entertainment, Inc. All Rights Reserved.