Thor #600
By Hervé St-Louis
February 16, 2009 - 08:36
Marvel Comics
Writer(s): J. Michael Straczynski, Stan Lee, Chris Giarrusso
Penciller(s): Olivier Coipel, Marko Djurdjevic, Chris Giarrusso, David Aja, Jack Kirby
Inker(s): Mark Morales, Marko Djurdjevic, David Aja, Vince Colletta, Artie Simek
Colourist(s): Laura Martin, Paul Mounts, Christina Strain
Letterer(s): Chris Eliopoulos
Cover Artist(s): Olivier Coipel, Marko Djurdjevic, Gabrielle Dell'Otto, Patrick Zircher
$4.99 US
This issue reintroduces the numbering of Thor to that of the previous run he had before the series was initially cancelled a few years ago. However, the story continues straight from Thor #12. Loki who had hidden Thor's grandfather centuries ago, releases Bor, but tricks him into seeing demons everywhere. Thor confronts his grandfather trying to stop him, but at what cost?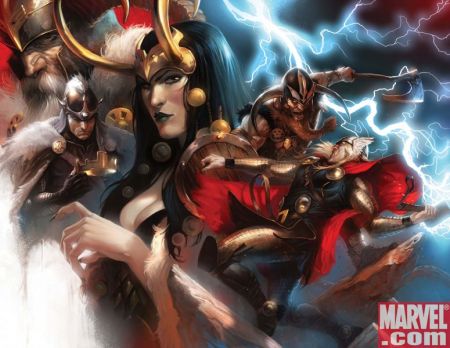 I must admit that the geeky part of me wanted Thor's grandfather, Bor would remain as a regular foe for Thor. He would have been a great champion and someone worthy of matching Thor's great power. Alas, Straczynski had other plans for Bor, which create a great dynamic for future Thor stories to come. How Thor could have been so dumb around Loki is a mystery to me. How could anyone be so unfearful of the master of lies surprises me? This issue offers a lot of payback for readers that have been following the latest Thor series. After a year of setup, Straczynski finally put all the pieces together and made the story advance.
There are other stories about Thor in this issue that are worth mentioning. The first is a short story written by Stan Lee about Thor in the early years of the Avengers. The second is by Chris Giarrusso featuring cartoonish Thor and company. Other stories include reprints of early Thor stories drawn by Jack Kirby.
As usual Coipel delivers the best Thor rendition in years, although he gets some help from Djudjevic. I like the facial expressions he gives Loki, as well as the well-choreographed fights. There's not much else I can say. Coipel does excellent work.
Aja brings an iconic touch to this early Avengers' story that reminds me of James Fry. Giarrusso and Kirby are just pros, although the inkers on Kirby's work made his stories look quite different.
Rating: 10/10
Related Articles:
Generations: The Unworthy Thor & The Mighty Thor comics review
Review: Red Thorn #13
Thors #3
Johnny Bullet and Doug Hawthorne
Johnny Bullet et Doug Hawthorne
Review: Thor #1
Frank Thorne's Red Sonja Art Edition Volume 1
Thor: The Dark World
Thor The Dark World Movie Review
Bryan Cranston Is Lex Luthor