Shirley Manson and Serj Tankian: The Hunger (Amnesty International Version)
By Andy Frisk
March 12, 2011 - 22:07
Serj Tankian, singer/songwriter/activist of the late great System of a Down, sullies forth on his mission to combat bigotry, political oppression, and other evils of the sort in his post-System of a Down career this time through his involvement with Tony and Grammy Award winning playwright and lyricist Stephen Sater's new rock musical/play Prometheus Bound. The American Repertory Theatre's website for the play describes it as follows:
An outcry against tyranny, Prometheus Bound illustrates the struggle against the brute force of a ruthless dictator. Written by Tony and Grammy Award-winning playwright and lyricist Steven Sater (Spring Awakening) with music composed by Grammy Award-winning System of a Down lead singer Serj Tankian, this new musical is inspired by Aeschylus's Ancient Greek tragedy about the heroic struggle of Western civilization's first prisoner of conscience. A.R.T. Artistic Director Diane Paulus stages this world premiere production in OBERON, immersing the audience in an environment that has the Dionysian energy and rebelliousness of a rock concert.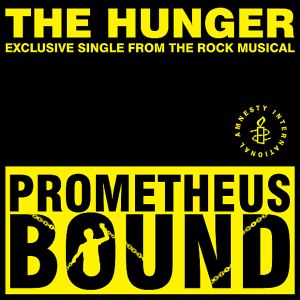 The play, currently running at the OBERON theatre in Cambridge, MA, not only re-imagines a classic tale that still resonates with relevance in our modern times, it boasts (as stated above) a soundtrack fitting the subject matter. Serj Tankian moved into new territory with his second solo album release Imperfect Harmonies to very mixed fan and critical response by eschewing SOAD type guitar, bass, and drums and instead opting to make music with synth beats, strings, and other electronica inspired instruments. This shift, regardless of how it was received, opened new doors for Tankian, and the opportunity to score Prometheus Unbound would most likely not have materialized without his attempt at making such radically different music. While Prometheus Unbound does boast traditional rock music as part of its score, "The Hunger," recently released through iTunes (with all profits from the sales of the single going to Amnesty International), is decidedly not traditional rock music. Its use of industrial sounding syncopated drum beats, processed guitar riffs, and bridging synth droning are more apt to be classified as edgy alt rock or even industrial rock. Regardless of how one classifies the sound of "The Hunger," it sounds better than anything that Tankian composed on Imperfect Harmonies. Perhaps it's just taking him a little time get used to programming processors instead of strumming a guitar and singing. Speaking of the singing, the incomparable voice of 1990s female alt rocker Shirley Mason handles the vocals on the track. Her voice is still as powerful as ever. Hearing her again on some new material makes us fans of her work in the 1990s long for more from her and her band mates in Garbage.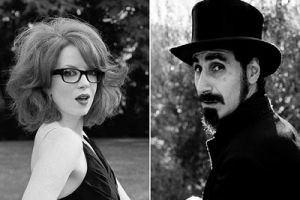 Her soothingly tortured voice relates the story of Prometheus Bound character Io, whom ends up exiled from her home after being raped by Zeus. As a short description of the song and its theme as described on serjtankian.com states:
"The Hunger" is sung by Io, a mortal who was raped by Zeus and exiled from her home. Her pain becomes a rallying point for Prometheus, a clear example of the kind of injustice perpetrated against the humans by their immortal tormenters. Shirley's powerful voice and emotion as she tells the story of this victimized woman, is the perfect introduction to the world of Prometheus Bound and the work of Amnesty International.

As mentioned above, "The Hunger" does serve as the perfect introduction to Amnesty International, the renowned organization dedicated to the release of political prisoners and prisoners of conscious and the abolition of torture world wide, not just with its subject matter but with its melancholy sonics. Amnesty International has, over the years, received much support and exposure from popular musicians, and Serj Tankian and Shirley Manson's endorsement adds their names to a long list of prominent rockers credited with generating awareness of not only the organization itself, but the causes for which it campaigns. "The Hunger's" ties to the causes it advocates makes the track worth a listen in and of itself, even though it is a great track worthy of standing on its own. Hopefully we'll get to hear more released music from the musical/play.

Rating: 10/10