Dark Gems: The best Legends of the Dark Knight
By Dan Horn
March 7, 2011 - 14:34
DC Comics




Dark Gems: The best Legends of the Dark Knight

Recently, DC released a one hundred-page collection of material from the bygone

LOTDK

series (and a

Tec

issue), "Conspiracy," as they've been doing with many other stories from that fondly remembered book. This collection showcases some of J.H. Williams III's best artwork, which at the time of his

Legends...

work

looked a bit like Sam Keith doing finishes over Kelley Jones' layouts (and yes, that's a good thing). Mick Gray's treacle inks add a murky dread to Williams' panels, and Dan Brown's sunset palette conjures a mysterious whimsicality from the pages of "Conspiracy." The story is interestingly esoteric for its time, but now seems a bit silly. Doug Moench is in fine form, but an uneducated fear of secret societies and Satanism bleeds through the gauze of an otherwise compelling yarn. The twists are more than a bit telegraphed, but that's coming from a guy who predicted the outcome of

The Orphan

from the television commercials. Really it's the aforementioned visuals that make this a classic Batman tale, and the thrill of retreading this story in a new format led me to thinking, "Hey, why don't I take a look back through my

LOTDK

collection and see what other gems I can pull from the pile?" Which brings us here: the first installment of "Dark Gems."

I have to, of course, start with my favorite three-part arc from Legends of the Dark Knight, "Faces." It was 1992 and Matt Wagner was having a big year. Not only was Grendel a smash hit for Dark Horse, but his options were opening up in a more commercial arena: Wagner was commissioned to write and pull art duties on DC's LOTDK #28-30, which would be released just a few months before Wagner's Grendel: Warchild would hit stands, and would pave the way to the subsequent Batman/Grendel miniseries. The story Wagner created for the Batman anthology is in my opinion one of the best and most overlooked tales in the mythology of the Caped Crusader.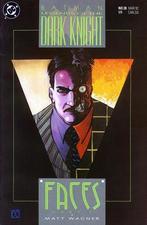 "Faces" opens in Arkham Asylum with Two Face flipping his coin, waiting, biding his time until his inexorable escape. He has a plan. He is ready to strike. Then, the Batsignal, high over the Gotham skyline. The story spirals in and out of noir imagery and lambent kaleidoscopes of jazz-age polychrome.

"Faces" does a fantastic job of juggling the dual identities of billionaire playboy Bruce Wayne and that of his ghastly vigilante counterpart, the Batman. We see both sides of the character, sharing nearly equal panel time, and ultimately the mystery within the stories' pages takes both personas to unravel it, not just Batman, as we so often see in other books. And the mystery is quite a doozey, harkening back to hard-boiled pulp detective stories with a splash of corporate espionage as Bruce Wayne finds himself outbid in a real estate war by a perplexing buyer, and Batman is hot on the heels of the murderous Two Face.

There's a very literary quality to "Faces," at times gumshoe detective novel, and at others a strange mix of Poe, Shakespeare, and Bradbury all rolled into one cryptic tragedy. The payoff is absolutely fantastic, if not equally weird and horrifying. Matt Wagner always works well with an ensemble cast of characters, and his additions to the Batman mythology play out their rolls in his tale perfectly, becoming permanently embroiled in the dusky fabric of Gotham lore. The real estate agent, Wren, in particular is so helplessly caught up in the intrigue of "Faces," it's impossible not to empathize with the character and ultimately lament with him the unfortunate and unstoppable trajectory his life took at the onset of the story. "Faces" is also a quintessential Harvey Dent tale, examining his torn psyche and why he is afraid to be a freak and the lengths he will go to belong. But, I suppose, if you haven't read "Faces" yet, you should scour your local comic store's back issue bins to find out what the hell I'm jabbering on about. It's very worth your while.

Next time, I'll be talking about a little known Mignola work. These articles will be mostly about LOTDK, but I will diverge from that now and then to talk about other wonderful Batman stories.

If you have anything Bat-related you'd like me to talk about, please feel free to email me your suggestions at dan@comicbookbin.com
Related Articles:
The Batman Movie Review
Batman: Soul of the Dragon
Review: Batman TMNT III #4
Review: Batman Beyond #34
Review: Batman and the Outsiders #3
Review: Batman Teenage Mutant Ninja Turtles III #003
Review: Batman Beyond #33
Review: Batman and the Outsiders #2
Review: Batman TMNT III #2
I'm Batman