Webcomics / Johnny Bullet Comic
Johnny Bullet #72 Comic
By Hervé St-Louis
May 2, 2016 - 20:15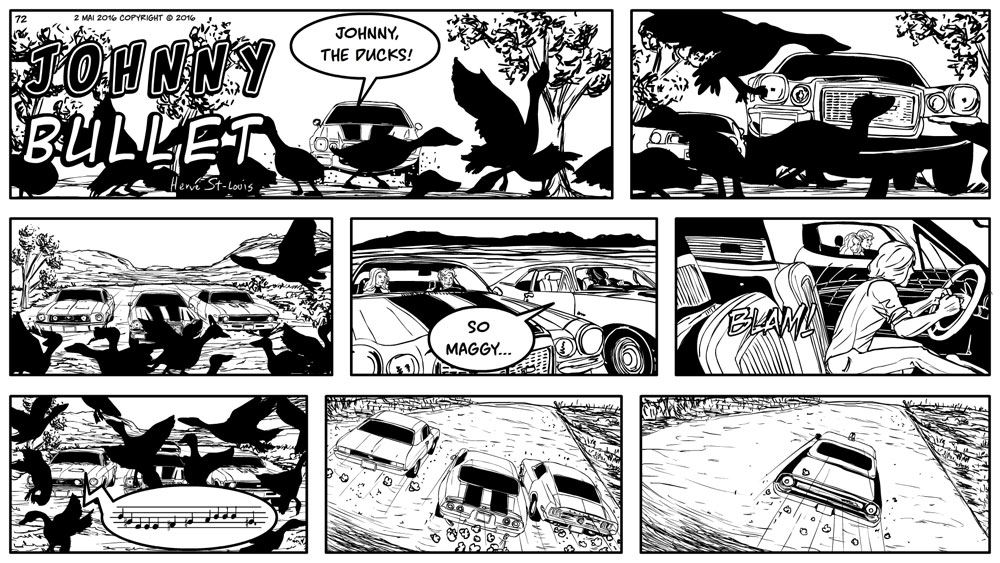 Subscribe to Johnny Bullet through RSS
Patreon


Subscribe to the Johnny Bullet Newsletter
Email me!
Written by : Hervé St-Louis
Pencilled by : Hervé St-Louis
Inked by : Hervé St-Louis
Letterered by : Hervé St-Louis

Late again! What was my excuse this time? Well, I was working on my submission for the DC Comics talent workshop.
I really like this week's page. If you can read music, I strongly encourage you to play the tune in panel six. Just saying!
I just got a press release from IDW about the M.A.S.K. comic book.
I reviewed the DVD release
of the series a few years ago and must admit that this show that I watched as a kid was crap. But there is one more car-related comic in print so this is a good news! I can't help but think that Johnny Bullet started a genre in North America (Europe has had a viable car-related comics genre for over 40 years).
Cheers and see you next Sunday, May 8 (if I'm not late as usual!)
Hervé
Last Updated: May 15, 2023 - 07:19
Join the discussion: