Webcomics / Johnny Bullet Comic
Johnny Bullet #47 Comic
By Hervé St-Louis
November 3, 2015 - 18:02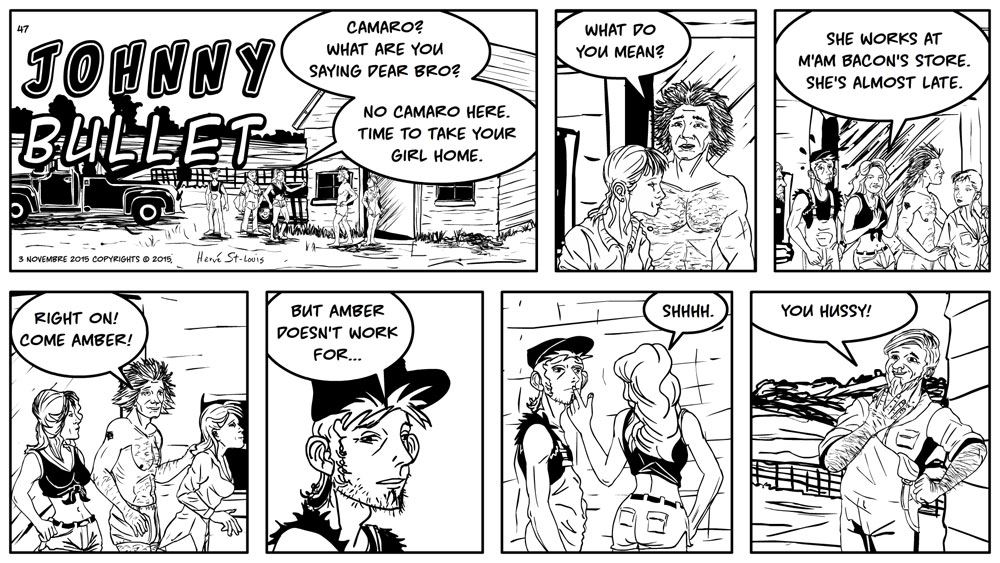 Subscribe to Johnny Bullet through RSS
Patreon


Subscribe to the Johnny Bullet Newsletter
Email me!
Written by : Hervé St-Louis
Pencilled by : Hervé St-Louis
Inked by : Hervé St-Louis
Letterered by : Hervé St-Louis

Alright, so I said tomorrow. It's the day after tomorrow for the next Johnny Bullet comic strip. This page took me a bit more time to draw than usual. Since I posted an anniversary page just a few days ago, I could have skipped the update altogether but I didn't want to!
Last week cartonist
Melissa J. Massey reviewed Johnny Bullet
(and her comics). Check out her review! It's not too late to join Patreon and support me directly (is it ever too late?)!
Cheers and see you back Sunday November 8, 2015.
Last Updated: August 4, 2023 - 09:22
Join the discussion: