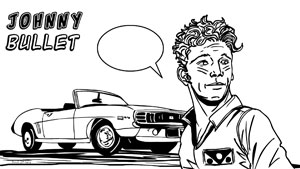 Marvel Legends
Wasp
By Hervé St-Louis
May 21, 2007 - 12:01
The Wasp, Janet Van Dyne appeared in Tales to Astonish #44 published in 1963 as a rich love interest of Hank Pym who gives her powers similar to his, allowing her to become a super heroine. The Wasp, changes costume frequently in comic books which explains why Toy Biz released three versions of this action figure. The black and fluorescent green version is the one closer to her current depiction in comic books.



Likeness



This Wasp has short cropped hair and a variant of the modern suit she has been sporting in Avengers stories published between 2003 and 2007. As the Wasp changes costume so often and artists are encouraged to modify her costume to keep with her personality, it is difficult to provide an exact reference to this suit. As recently as Mighty Avengers, The Wasp sported a costume similar to this one, but with differing patterns on her torso. The one differing element with recent costume is the fluorescent yellow hue, instead of canary yellow.



Sculpt



The Wasp's is a slender woman, much more than the actual comic book. Here she looks almost anorexic. She is taller and almost like a super model. This is different from the Wasp I am more familiar with. Although being very thin, this action figure is one of the best looking female characters made by Toy Biz. Her proportions are more realistic and her limbs do not make her look like a puppet. The Wasp's breasts, however, are flat and look closer to a buffed man's chest, than a woman's.

The Wasp has two sets of wings. She is often drawn with one set. It is good that there are four wings, as it makes her look more dramatic and imposing. Little enclaves are sculpted in, giving them a realistic look.



Paint



There is no real paint application on this figure. The Wasp's base plastic is black, as her suit and her head's plastic are in skin tones. The wasp-like designs one her chest is painted on, but does not look solid. It would fade out easily if rubbed. There are highlights in the Wasp' hair, but their lightness makes it seems as if the paint had peeled off. Some tones on the wings would have given them a more natural look than the beige they come in. I like how her palms and soles are painted with the yellow. Highlighting her hands allows one to remember that the Wsp can shoot energy bursts from her hands. In hindsight, the fluorescent yellow looks better over black than canary yellow, as it strikes out more.



Scale



The Wasp is tall, comparted to other Marvel Legends female characters. In the comic book, she is supposed to be 5.4 feet high. She is as tall as many male figures too.



Stability



Although she sports high heels, the Wasp's feet are flat. Balancing her can be a problem because of the weight of her wings on her back. One must bend her forward a bit to allow good equilibrium. When her wings are spread, balancing her is easier. Because her thigh articulation doesn't allow easy trust forward and backward, for her thighs, it is difficult to find proper balance. However, The Wasp has peg holes in her feet, allowing her to be inserted on top of an action figure stand.



Articulation



The Wasp has 30 articulations without counting her wings. Her neck has a ball joint, allowing her head to move in several directions. Her shoulders and hips also have ball joints. However, the ball joints in her hips have limited mobility. She has rotating biceps, thighs and calves. Her elbows and knees have double articulation allowing better posing capabilities. Finally, he wrists and ankles can bend. Each wing on her back can also rotate, allowing the Wasp to look as if she was flying or resting.



Plastic



The Wasp is made of bendable plastic that does not break when kids play with it. However, when using the articulations, it can grind over time or break if pushed too far.



Props



The Wasp comes with the hips and legs of the Modok action figure that is built by collecting parts of all Marvel Legends Series 15 action figures. The set also comes with a small disc used as an action figure stand. But it is useless. Finally, there is a copy of Avengers #194, Volume 1, where the Wasp is taken prisoner by villain and rescued by Ant-Man and Yellow Jacket. This is not the best showing of the character, so I wonder why Toy Biz chose to highlight this issue. The one thing missing with the set is a smaller Wasp figure showing how she looks when she shrinks down. Goliath's action figure from Marvel legends Series 4 had one.



Packaging



The Wasp is packaged in a large plastic bubble with a cardboard insert inside the package. Scissors are necessary to open the package.



Cost



This version of the Wasp action figure is the cheapest as it is the standard one included in cases. This figure often retails for $12. Prices on Marvel Legends action figures have increased, although availability has not diminished. Whereas these action figures could be bought for $8 in large retail chains, more stores mark up these toys so they have a similar price tag to the replacement line from Hasbro.



Availability



It is important to understand that as of January 2007, older Marvel Legends action figures are no longer released by Toy Biz. As the standard action figure in this set, the black variant of the Wasp is the easiest to obtain. The red and the blue variants are rarer but also spotlight the character from past looks. The black variant is the most modern one and features hip haircut. If you prefer the other variants, I suggest you read the excellent Red Wasp variant review by my colleague, Big Bear.










































© Copyright 2002-2021 by Toon Doctor Inc. - All rights Reserved. All other texts, images, characters and trademarks are copyright their respective owners. Use of material in this document (including reproduction, modification, distribution, electronic transmission or republication) without prior written permission is strictly prohibited.