THE SILVER BATGIRL AND JOKER SET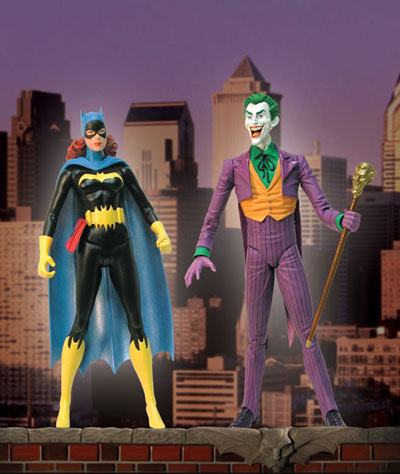 The new Silver Age Batgirl and Joker action figures arrive at a time when there's much uproar and criticisms about the direction of the DC Direct line and its abundance of Batman and Superman related figures compared with other characters from DC Comics. This set is the follow up to the successful Silver Age Batman and Robin set released earlier (and reviewed elsewhere on the site). But are they worth it?
The simple answer is yes. Vendors have reproduced both characters several times. At the time I'm writing this, there's even a compelling competing Joker being offered by toy giant Mattel. However, for many fans, the only legitimate action figure of a DC Comics character, is the one produced by DC Direct. On that count, fans of Batgirl and the joker will be pleased. These really are the official versions.
When DC Direct announced the set during 2002's San Diego comic book fair, many questioned the pairing of the two characters. Besides the obvious link they share in the accident that robbed former Batgirl, Barbara Gordon, of her ability to walk, after being shot by the Joker, the only reasonable link they have is the fact that they are respectively the dukes and duchess of the Batman mythos and universe.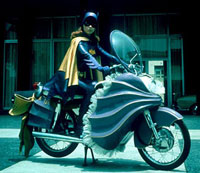 If one considers Batman king of his universe, and Robin as the prince, the next major characters in line are Batgirl and the Joker. Much like Robin, both cannot exist without Batman. Batgirl is nothing but a female derivative of the Batman. Joker is the arch nemesis. Just as an aside, where does that leave Nightwing? Well, he existed for several years outside the Batman world. He's more like a regent.
In the Silver Age world of Batman, there is no Nightwing and this set plus the Batman and Robin one are about an era of comic books that is seemingly very popular with today's fan - or in many's case, such as me, their children! Actually, being non existent, I'm not much of a Silver Age fan, although, the characters' interpretations in this set make strong arguments for the titles of definitive and ultimate versions.
BATGIRL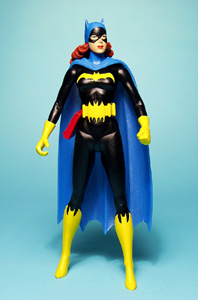 DC Comics introduced Batgirl in the comic books just at the request of ABC, who broadcasted the live action television series in the late 1960s. Batgirl, is the daughter (and sometime called the niece) of Commissioner Gordon, the police officer known for his cooperation with Batman. Barbara Gordon became Batgirl against Batman's wish. Her presence marks the beginning of the extended Bat-family of vigilantes.
It's been a week since I bought the Batgirl figure and although it's great looking, I've decided not to keep it. I didn't even pose her on my shelf. This figure could be a favourite of mine but something about it is off. I'm not a Supergirl fan. When I got her figure, I fell in love with her. I love Batgirl, but this figure does nothing for me. My interest is so lukewarm, that I'm trading her. I never thought I'd do that with Batgirl.
Likeness
She looks just like the original comic book version she was based on. Later, Batgirl dressed in grey instead of black, She carries a purse on her right hip, has long dark red curly hair and a cute baby face. Her body is slim and her legs long and gracious. She looks like she's 19 years' old. Obviously, her face mask is black. I don't know why DC Direct painted the inside of her cape light blue.
Sculpt
This is another Tim Bruckner's sculpt. Faces have always been Bruckner's strength. However, Bruckner gave Batgirl strong lower lips and mouth area. It's like she's chewing some gum. This is a distraction from a great face. Another flaw in sculpt is the long neck. It's not realistic. It's like a long pipe on top of which, a head was added. I expected that from Toy Biz and Mcfarlane's Danger Girls, not DC Direct.
Paint
The paint application is poor. There is smudge on areas where there is yellow paint. Again, I don't understand the light blue of the cape. In some comics, Batgirl used her cape as a skirt, but this makes the figure look like She-ra doll for girls instead of an action figure for guys. Unfortunately, there are no colour highlights in Batgirl's hair. Her red lips stick also stands out much, compared with the flesh tones of other figures.
Scale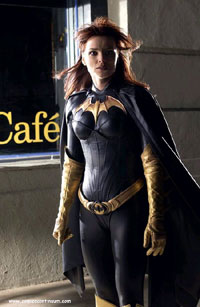 Batgirl body's scale looks appropriate next to the Birds of Prey set and the Silver Age Batman and Robin set. However, her head is too small, compared with them. She also looks out of sync next to other sidekicks like Speedy and the Teen Titans. Batgirl is definitely a petite woman. She looks great next to the modern Supergirl.
Stability
Here's a good test to know if your new action figure can stand on their own. Pose them, then leave the room to go grab a glass of water. If the figure is down, you have a loser. Batgirl is a loser with high heels. At most she can stand for five seconds. When placed on the rooftop, the figure will fall within minutes. She would require two peg holes to stand solidly. The peg bars are too long to fit the peg hole in her right foot.
Articulation
Batgirl has reduced articulation. She has no ball-jointed shoulders. However, she still has eleven points of articulation at her neck, shoulders, elbows, wrists, hips and knees. Fortunately, there is a gap in her hair, that allows the figure's head to move sideways, even if her hairs are wide. It would have been great if the purse had been removable. It's stuck there, although it does not limit the articulation. 1 2
Read related reviews such as:
© Copyright 2002-2019 by Toon Doctor Inc. - All rights Reserved. All other texts, images, characters and trademarks are copyright their respective owners. Use of material in this document (including reproduction, modification, distribution, electronic transmission or republication) without prior written permission is strictly prohibited.