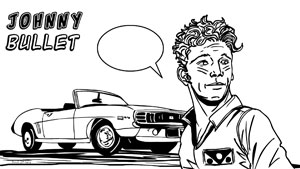 Marvel Comics
X-Men #29: Victor Gischler's Run Ends (Review)
By Andy Frisk
May 30, 2012 - 21:34
Publisher(s): Marvel Comics
Writer(s): Victor Gischler
Penciller(s): Will Conrad
Inker(s): Will Conrad
Colourist(s): Guru EFX
Letterer(s): VC's Joe Caramagna
Cover Artist(s): Will Conrad and Guru EFX
$3.99 US

When

X-Men

debuted a few years ago, I praised it and writer Victor Gischler's take on one of Marvel Comics' most popular and long standing concepts. Then when Wolverine turned into a vampire, I dissed it. Quickly though, I fell back in love (quite deeply and unconditionally) with Gischler's writing on

X-Men

when he crossed them over with Spider-Man a few issues later. Further along, issue #20 launched one of my favorite X-Men stories in years. The crossover with the Future Foundation that followed, and that utilized a character from Cyclops' distant past, was yet another brilliant, and fun, crossover between the X-Men and some of the Marvel Universe's other brilliantly written characters and titles. Gischler was quickly turning

X-Men

into the X-Book to read, and only Jason Aaron's take on the X-Men over in

Wolverine and The X-Men

challenged it. His stories kept the X-Men solidly integrated within the rest of the Marvel Universe, something that is often sorely lacking where X-Men stories are concerned. They also addressed social and political topics in a light but poignant way. Honestly, Gischler wrote some of the best X-Men stories since Chris Claremont was at his height. Sadly though, with issue #29 his run on

X-Men

comes to a close.

In a story that brings to a close his last story arc, which focuses heavily on Pixie and tells the story of a few refugees of the Skrull Secret Invasion trying to escape the planet and get home, Gischler once again meshes the X-Men with Spider-Man and the Fantastic Four in an adventure that is both fun and insightful (especially into one of the characters Gischler would have delved more deeply into had he stayed onboard). It's the kind of story that I don't think we'll be seeing from Brian Wood when he takes over the reigns from Gischler in issue #30. Wood is a great writer, and his

Conan the Barbarian

over at Dark Horse is a great read, like his late, great

Northlanders

was over at Vertigo, but I don't know if he's going to have the knack for mixing up the X-Men with some of Marvel Comics' other heroes.

Will Conrad brings Gischler's run to a solid close artistically. Operating out of what I like to call the "Jim Lee Style School," Conrad draws realistic looking superheroes and sci-fi tech. His characters look believable and well proportioned. His eye for detail is excellent and I love the detail put into the Skrull refugees' suits and facial expressions.

I wish Victor Gischler well in his next comic book endeavor, but I'm going to miss him on

X-Men

. He's had a great run though, and he's left X-Fans with stories that will hold up to multiple readings. That's something that's been pretty rare these days in the realm of mainstream superhero comics.


© Copyright 2002-2019 by Toon Doctor Inc. - All rights Reserved. All other texts, images, characters and trademarks are copyright their respective owners. Use of material in this document (including reproduction, modification, distribution, electronic transmission or republication) without prior written permission is strictly prohibited.